Interview with Cleopatra & Other Famous Rulers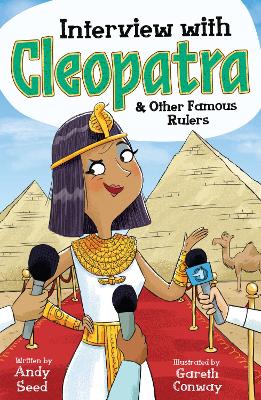 By Author / Illustrator
Andy Seed, Gareth Conway
Genre
Non Fiction
Age range(s)
9+
Publisher
Welbeck Publishing Group
ISBN
9781783128310
Format
Paperback / softback
Published
12-05-2022
Synopsis
If you could go back in time and talk to famous rulers from the past, what would you ask?  Brave animal interviewer and author Andy Seed has adapted his incredible 'tranimalator' device into a time machine, allowing him to go back and talk to all kinds of figures from history! Get to know 10 famous rulers who take time out of their busy schedules to answer all sorts of (very nosy) questions about their actions and unique perspectives. Discover the good, the bad, and the unexpected as each ruler reveals the truth about their lives - and attempts to find out about the future!
In this fun and fact-filled book, bite-sized text in a question-and-answer format is paired with engaging illustrations, perfect for reluctant readers and humour-seeking history fans. Featuring interviews with Cleopatra, Alexander the Great, Boudicca, Hadrian, Harald Bluetooth, Genghis Khan, Montezuma II and more - plus bonus facts about key events in each ruler's life. 
Perfect for fans of the Horrible Histories books, this series offers a fun, fresh take on history, featuring true stories from historical figures from across the world.  See also Interview with Blackbears & Other Vicious Villains.  And if you've ever wondered what it would be like to talk to animals, check out Andy Seed's Interview with a Tiger and Other Clawed Beasts Too and Interview with a Shark and Other Ocean Giants Too.
Find out more in this vide and Q&A with author Andy Seed.
Reviews
Lisa
Interview with Cleopatra & Other Famous Rulers is a really funny and engaging book for children. I have thoroughly enjoyed reading this book by Andy Seed, it will be a staple book I keep with me when visiting different areas of History with my Primary School class.
It is written in a question and answer format that follows a conversation between the author and the rulers he is visiting in his time machine. This is a great format for previous reluctant readers or younger readers who want to start reading larger books, who will also be encouraged by the humorous pictures throughout. Children will be engrossed with the wacky and fun facts that appear from the different rulers' perspectives.
The format of the book along with the quiz, index and glossary at the end provides some great teaching opportunities for looking at non-fiction texts in a fun and appealing way for children. I will be looking out for other Andy Seed books to add to our school library!
128 pages / Reviewed by Lisa Watkins, teacher
Suggested Reading Age 7+
Jane
In the short introduction, Andy Seed explains how he came to do these 10 interviews of famous leaders from the past - by using his tranimalator to time-travel to the corresponding points in history. He also sets the tone for the rest of the book: humorous and informal, with many a self-deprecating joke.
At the start of each interview, we're told the year (e.g. 60 CE) and then we get to hear about the leader's background and philosophy on life, their exploits and achievements - in their own words (allegedly!). Finally, at the end of each conversation, there are some more historical facts, distilled into bullet points and maps, for those who want to learn about what happened next, as well as some career highlights and legacies of the ruler in question. The book concludes with a Quiz, Glossary and Index.
Andy Seed has managed, with huge success, to bring history to life, just as Gareth Conway has animated the text with his lively cartoons and illustrations. It will be enjoyed by children of many ages, from Year 3 upwards, and would be a good resource for teachers to draw on in history lessons about, say, Ancient Egypt, Tudors, Aztecs, Celts and 'empire' the world over.
128 pages / Reviewed by Jane Rew, school librarian
Suggested Reading Age 7+
Other titles