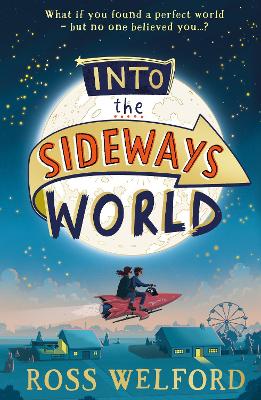 By Author / Illustrator
Ross Welford
Genre
Science Fiction
Age range(s)
11+
Publisher
HarperCollins Publishers
ISBN
9780008333843
Format
Paperback / softback
Published
20-01-2022
Synopsis
The moving, funny, thrilling and adventured-filled new novel for readers of 10 and up from bestselling author Ross Welford.
When twelve-year-olds Willa and Manny hear of a mysterious animal prowling their town, they are determined to prove it is real. Following the creature into a cave one full moon, they are swept into an alternate, ideal, world - one where pollution and conflict have been conquered decades ago and even their own families seem happier.  
But when they return, no one believes them. So, with a global war looming in their own world, their quest for proof of the Sideways World becomes ever-more urgent, in a nail-biting race against time.  And Willa and Manny will have to make an impossible decision: because once you find a perfect world, can you ever leave it behind . . .?
Reviews
Ellora

- Age 11
Ross Welford is an exceptionally brilliant author with his mind blowing time books and Into The Sideways World is no exception. I read this book in one sitting, so mesmerised with the way he writes. I love how he involved the future and a different world into this book it's amazing. 5 stars!
Suggested Reading Age 11+
Tracy
I am a big fan of Ross Welford's stories. They are imaginative, inventive, beautifully crafted, filled with believable characters, thought provoking, yet very funny. By weaving philosophical questions and scientific concepts through his works, Welford ensures that his readers are informed and most definitely not patronised. 
Into the Sideways World is no exception. It is a brilliantly told, well-paced book which will enthral and engage all readers. Although aimed at 10 years plus, this rather aged reader read it in one sitting: it is most definitely a page turner. Without giving too much away (there is nothing worse than a spoiler or two), the story is set a few years into the future and centres on Willa and Manny, two outsiders who strike up a friendship. One night, a strange occurrence thrusts them into an alternative parallel life in an almost Utopian world where there are no wars, no pollution, and no family conflict. When they return to their world, however, no one believes them, apart from the rather marvellous 85-year-old lifelong learner Maude. Maude is a fantastic character, and I defy any reader to find her, and her well-considered views on life, otherwise.
Children, teachers and parents will just fall headlong into Welford's sideways world.
416 pages / Reviewed by Tracy Parvin, teacher
Suggested Reading Age 9+
Sue
The quest to prove a mysterious creature exists takes Willa and her friend, Manny, into a cave one moonlit night. As the tide rises, they find themselves swept into an alternative world - a 'perfect' one where war and pollution are things of the past and everyone, including Willa's family, seem to be happier versions of themselves.  However, when they return, no one believes that their adventure took place and the contrast of their own world with a looming global conflict with the 'Sideways World' becomes all the more poignant as they seek to prove it exists to those around them.
With a book like this, it is essential that a review does not give too much away so I proceed with that in mind! Willa and Manny are both outsiders in their world and find themselves drawn together. Each has their own problems - Manny has been in the care system, has never met his father and has no idea where his mother is. Willa's family is constantly fighting, with the family business under threat and the possibility of her father being called up to fight in the next war an ever-present threat. Each engages the reader, provoking empathy as they deal with their 'real' lives and are thrust into the seemingly perfect sideways alternative.
The story offers thought-provoking philosophical questions to explore and presents some fairly mind-boggling scientific theories and concepts, making it an appealing read for those looking for a read which offers a challenge and something a little different. An engaging and absorbing read.
416 pages / Reviewed by Sue Wilsher, teacher
Suggested Reading Age 11+
Other titles