Jane Austen Investigates: The Abbey Mystery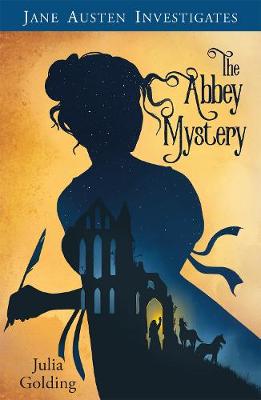 By Author / Illustrator
Julia Golding
Genre
Mystery & Detective
Age range(s)
9+
Publisher
Lion Hudson Ltd
ISBN
9781782643340
Format
Paperback / softback
Published
23-04-2021
Synopsis
Jane Austen turns detective in this spooky historical adventure by award-winning author Julia Golding!
It's 1789 and a young Jane Austen turns detective as she seeks to solve the mysterious happenings at Southmoor Abbey. When a carriage accident forces a change of plans, 13-year-old Jane is sent to be a companion to Lady Cromwell for a week as the household prepares to celebrate the eldest son's coming-of-age party. While there, Jane vows to solve the mystery of the ghostly monk in the Abbey grounds - for she does not believe in such stories!
But this is not the only strange occurrence for the adventurous young Jane to investigate. There are shivery night-time investigations, an Indian girl with secret talents, a library fire, two prize horses in danger, and friends to save from false accusations.
With notebook in hand and her faithful dog Grandison by her side, will Jane overcome the continuous obstacles and find out the truth?
Reviews
Hamizah
A book for young readers but as a 30 something, I enjoyed reading it! The book has everything; adventure, humor, sibling love, and friendship. Jane Austen Investigates - The Abbey Mystery by Julia Golding tells the story of young Jane Austen as a young detective. When an accident in the family forces a change of plans, young Jane, in place of her sister was sent to Southmoor Abbey as a companion to Lady Cromwell. After being awaken in the middle of the night and seeing mysterious lights going off in the Abbey ruins, and several other strange occurrences, Jane can't help but investigate. While reading this book, I can imagine a young Jane Austen investigating everything and putting it into writing. Truly enjoyable!
192 pages / Reviewed by Hamizah Aziz
Suggested Reading Age 9+
Linda
I've got to be honest - when this book dropped through my letterbox, I wasn't entirely overjoyed. One look at it told me it was not the sort of book I would normally go for. I cracked it open and prepared myself to do battle with some elaborate prose and flowery language and was delighted to find that I could not have been more wrong! What followed was a witty, unpredictable and fast-paced mystery, which would be enjoyed by many young readers and may even pique their interest in reading some regency-style writing.

Jane Austen is the protagonist in the story. When tasked with acting as a companion to Lady Cromwell, Jane stumbles upon some sinister happenings at Southmoor Abbey. Can she solve the mystery and save her new friends?

I thoroughly enjoyed this piece of historical fiction, and particularly loved the links to the real Jane Austen - the place names, family members and feminist stance of the young Jane, for instance. It is a fantastic window into the cultural norms at the time and would lend itself well to classroom discussions on the class-structure, position of woman and racism of the Georgian-era. Like novels written by the actual Jane Austen, it has the same social commentary and sense of humour, which readers will both learn from and enjoy.

I will definitely be adding this to our Year 6 bookshelf and will be signposting it to fans of mysteries, or historical fiction. It will be a new style of novel for many and would enrich any child's reading repertoire.

192 pages / Reviewed by Linda Canning, teacher
Suggested Reading Age 9+
Donna
When Jane's older sister is injured following a jolly jape with a galloping horse and carriage, it is Jane's duty to replace her at Southmoor Abbey. Nothing could be worse for Jane than to be a companion to Lady Cromwell, especially when she knows she is not the Austen that they wanted.

Dragging the loyal Grandison along with her, Jane arrives at the Abbey under duress. The one glimmer of hope on the horizon of a week of boredom is the mystery of the ghostly monk that is meant to haunt the Abbey grounds. The week unfolds into an adventure like no other as Jane makes friends with a stable boy and an Indian girl with warrior skills. Her joy of life, investigative nature and penchant for writing and drama weave their way through to the very last drop of this mystery.

Julia Golding creates a thoroughly engaging protagonist. She allows us into the inner thoughts and machinations of Jane Austen's mind and the result is truly delicious. Humorous and lively throughout, I found this an incredibly enjoyable book.

Links to historical drama, plights of women and lower classes of the time, bravery, courageousness and the importance of being true to yourself.

192 pages / Reviewed by Donna Burkert, teacher
Suggested Reading Age 9+
Other titles