Johnny Ball: Accidental Football Genius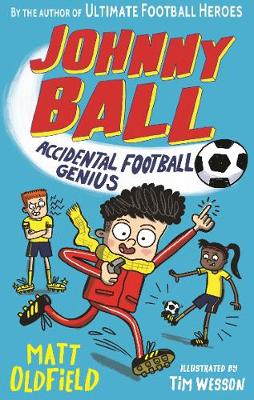 By Author / Illustrator
Matt Oldfield
Genre
Funny Stories
Age range(s)
7+
Publisher
Walker Books Ltd
ISBN
9781406391268
Format
Paperback / softback
Published
04-06-2020
Synopsis
From the author of Ultimate Football Heroes comes the first book in the new Johnny Ball series, perfect reading for football-mad kids

Johnny Ball LOVES football. He loves reading about it, talking about it, watching it - and he loves playing it too. He's a good player, but not quite good enough to make the Tissbury Primary School team for the super-huge Under-11s County Cup. But never mind, because their clueless coach, Mr Mann, has a special role for Johnny: ASSISTANT MANAGER! With only Grandpa George's old scarf, a 'pocket' notebook and his brilliant football brain, can Johnny lead the Tissbury Primary team all the way to County Cup glory?
Reviews
Andrew
What a great start to a hopefully very successful series. Johnny loves football and so do the rest of his family! His mum and dad both used to play for the local football team and his older brother was a legend at school. Unfortunately, Johnny is not a great player but he has a wonderful football brain that comes up with brilliant ideas just when his school team needs them! Can Johnny and his football brain guide his school all the way to winning the County Cup?!
Johnny is a lovable character, full of passion for the game he loves and doubts about his own ability. With his family to support him (especially his embarrassing mum), a team manager with no clue about how to play and a best mate called Tabia with 'mad skillz' on the pitch, just how will Johnny's journey play out?
This book is laugh-out-loud funny, easy to read and has some great illustrations as well, created by Tim Wesson.
208 pages / Ages 7+ / Reviewed by Andrew Mullen, teacher
Suggested Reading Age 7+
Other titles