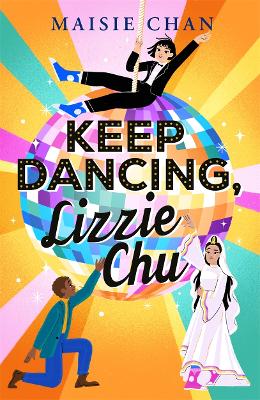 By Author / Illustrator
Maisie Chan
Genre
Friends and family
Age range(s)
9+
Publisher
Bonnier Books Ltd
ISBN
9781800781610
Format
Paperback / softback
Published
09-06-2022
Synopsis
Keep trying, keep laughing, keep dancing! A heart-warming novel from the Blue Peter Book Award shortlisted author of Danny Chung Does Not Do Maths.
12-year-old Lizzie Chu lives in Glasgow with her grandad Wai Gong, and he's been acting a little strangely lately. He is becoming forgetful, and spends a lot of time talking to his statue of Guan Yin - the Chinese goddess of compassion, kindness and mercy. Lizzie is worried about Wai Gong, but doesn't really know what to do to help him. She's already got a lot on her plate with caring for him, doing the shopping and everything else on top of schoolwork and the usual trials of being twelve!
Then Lizzie comes up with a madcap plan. She's going to take Wai Gong on the trip of a lifetime, to Blackpool - to the Tower Ballroom, where he always longed to go, to dance with his late wife Grandma Kam. To rekindle that love for dancing and to see if Wai Gong can find his mojo again. The only problem is - just how on earth is she going to get him there? With a little help from her friends Chi and Tyler, some ingenious costumes and an older brother with a beat-up Mini, Lizzie might just make it - and maybe she will be able to help Wai Gong get better after all?
A moving, humorous, and uplifting intergenerational story for fans of Frank Cottrell Boyce and Benjamin Dean.
Reviews
Lisa
This is the second book I have read by Maisie Chan and it is just as brilliant as the first, Danny Chung Does Not Do Maths! 
Keep Dancing, Lizzie Chu is a heart-warming story of 12-year-old Lizzie-Chu who lives with her Grandad. Lizzie has noticed that her grandad hasn't been himself since losing his beloved wife, becoming quite forgetful and talking to his statue of Guan Yin. This worries Lizzie, but she is unsure what to do or how to help him more than she already does whilst juggling her school work. Then Lizzie hatches a plan to take her grandad to Blackpool and fulfil his dreams of dancing in the Tower Ballroom!
Masie Chan has again created a story with lovable characters whom readers can instantly bond with. It is a story with intergenerational characters that can teach us much about Chinese culture and family traditions whilst taking us on a fun and adventure-filled journey with Lizzie and her friends. There are moments in this book which made me chuckle along and laugh out loud and other times where I empathised with the characters and found myself quite emotional.
This is certainly a book I will display proudly on my classroom book case and encourage my own daughter to read. There are integrated lessons of family loyalty, strength of character and positive friendships to be found in the story, told through the vibrant and endearing characters.
240 pages / Reviewed by Lisa Watkins, teacher
Suggested Reading Age 7+
Jennifer
Keep dancing, Lizzie Chu is the wonderfully uplifting, charming and tender story of 12-year-old Lizzie Chu, who as the only relative (and now, increasingly it seems, the carer) of her Grandad Wai Gong, who she has lived with all her life. After the loss of her Grandma Kam, Lizzie is struggling with the everyday life of a 12-year-old, her own grief and also now the burden of growing up too fast as it is obvious Wai Gong isn't coping well with the loss of his beloved wife.
I have immense regard for the author, Maisie Chan, who creates a finely balanced line between the sadness and joy all the way through the book . In the first chapter, we learn quickly that overwhelmed Lizzie finds Saturdays a "chore" and is weighed down by the responsibilities of cooking, cleaning and financially managing for her and her grandad. Yet the story takes the reader on a journey of positive emotions: love, hope, resilience and friendship.
The Chu's home life and happiness is suffering but then Grandma Kam leaves a special present behind for Lizzie and this and Wai Gong's beautiful memories of his and Grandma Kam's life together lead the thoughtful, worried Lizzie to plan the recreation of a Blackpool Ballroom dancing trip to bring her grandad some comfort and enable him to move forward with the future with Lizzie . When your elderly grandad will only be guided by the goddess Guan Yin, and you have no money and no transport, however, planning a road trip from Glasgow to Blackpool isn't going to be easy! Thank goodness for best friends Chi and Tyler who, with Lizzie, form a creative, determined enterprising trio who will do anything to fulfill Grandma Kam's wish. Including inventive costume design, some Oscar-worthy acting and more than a couple of leather clad biker 'angels' along the way.
I absolutely fell in love with each and every character in the story. There is a fabulous cast of intergenerational, diverse and representative characters who create such a vibrancy of colour, culture and personality to the setting of the story. Dramatic Chi's vegan Vietnamese family are a delight, the Chinese stories that have informed Lizzie's childhood are wonderful, and sewing master Tyler's pride in his two dads is charming to see. The author dips in and out of references to all of their backgrounds so effortlessly and affectionately and really weaves the characters together like a little community of their own.
Keep Dancing, Lizzie Chu is also a fabulously fun adventure! The bitter sweet emotions and moments make the humour all the more warm hearted and moving. The author clearly has a huge sense of fun in scenes where it look as if a group of Hell's Angels may be closing in on the group, stranded on the motorway in yet another disastrous moment on the journey to Blackpool. A case of mistaken identity at the ballroom itself is also a real comedy moment to love!
This whole book feels like a celebration to me - Lizzie and Wai Gong are experiencing such change and loss and yet their strength of character, the power of shared memory and the enduring bonds of family/friendship are so positively explored that the story is both comforting and inspirational and we know Lizzie will be able to "Keep Dancing" as her Grandma always told her to.
240 pages / Reviewed by Jennifer Caddick, teacher
Suggested Reading Age 7+
Other titles