Danny Chung Does Not Do Maths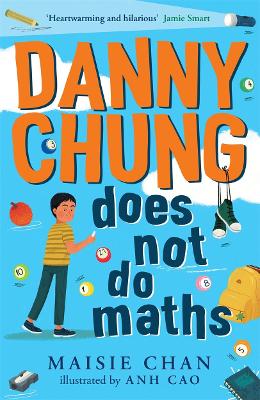 By Author / Illustrator
Maisie Chan
Genre
Friends and family
Age range(s)
7+
Publisher
Bonnier Books UK
ISBN
9781800780019
Format
Paperback / softback
Published
10-06-2021
Synopsis
Eleven-year-old Danny Chung loves drawing more than anything - certainly more than maths, which, according to his dad and everyone else, is what he is 'supposed' to be good at. He also loves having his own room where he can draw in peace, so his life is turned upside down when a surprise that he's been promised turns out to be his little, wrinkly, ex-maths-champion grandmother from China. What's worse, Nai Nai has to share his room, AND she takes the top bunk! Nai Nai can't speak a word of English, which doesn't make things easy for Danny when he is charged with looking after her during his school holidays. Babysitting Nai Nai is NOT what he wants to be doing! Before long though it becomes clear to Danny that there is more to Nai Nai than meets the eye, and that they have more in common that he thought possible...
Reviews
Lisa
This is a must read story in my opinion! A heart warming story of Danny Chung who loves drawing but hates maths…until Nai Nai arrives. Nai Nai is his little gran from China who has come to stay with him, his Ba and Ma in their small flat and she doesn't speak a word of English! Danny is tasked with looking after her, much to his embarrassment, but all she wants is to spend time getting to know him after missing the first 11 years of his life. It turns out that Nai Nai is quite a maths wiz with a fondness for bingo. It soon becomes clear to Danny that there is more to Nai Nai than meets the eye and they form an unbreakable bond.
The story and themes of the book provide a strong lesson to young children about being true to themselves and proud of where they come from. Danny Chung Does Not do Maths provides ample opportunities to discuss important topics with young children such as prejudice and challenging stereotypes. Danny is perceived to be good at maths just because he is Chinese and is picked on by is classmates when he tells them otherwise. It would make a great class read aloud story or a brilliant addition to a LKS2 class bookshelf.
288 pages / Reviewed by Lisa Watkins, teacher
Suggested Reading Age 7+
Other titles