Knight in Training: Spots, Stripes and Zigzags: Book 4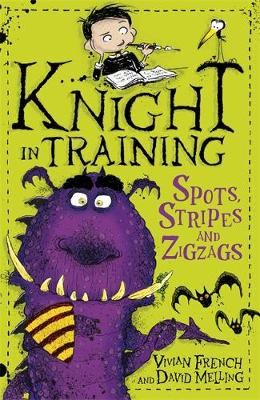 By Author / Illustrator
David Melling, Vivian French
Genre
Adventure
Age range(s)
7+
Publisher
Hachette Children's Group
ISBN
9781444922325
Format
Paperback / softback
Published
11-08-2016
Synopsis
A funny, exciting series for younger readers, by the bestselling Vivian French and David Melling.

Sam J. Butterbiggins' only ambition is to be a Very Noble Knight, but he has a problem - he's been packed off to the castle next door to stay with his uncle, aunt and cousin Prune.

But Sam's about to discover a magical scroll listing the six quests he must complete to become a knight ... and with Prune's help, he's already managed three of them! Now he has to earn his very own knightly shield. Prune knows where to go for armour: Puddlewink Castle! But before they can cross the drawbridge they're stopped by a terrifying creature. Will Sam's knightly dreams end here?
Reviews
Kyle
Knight in Training: Spots, Stripes and Zigzags is the 4th instalment of the Knight in Training series and continues to follow the journey of Sam J.Butterbiggins as he strives to become a fully fledged Knight. In this story, Sam has to solve the riddle to find his knightly shield with the help of his companion Prunella. The shield in question is just one element of what is needed to be a knight, with Sam having already found his companion, his snow white stead and sword in previous adventures. Whilst reading this, I couldn't help feel a little lost with where the adventure had moved on from and who the characters were. A brief recount of the journey so far would have been helpful. I also feel that there are quite a few characters to remember throughout the short story and I found myself thinking more about their relevance in the story than the story itself. The idea of being a knight and the mention of swords and shields could lend itself to being a hook for boys and personally, reading the series from the beginning might have made this a more enjoyable read. 128 pages / Ages 7+ / Reviewed by Kyle Matravers, teacher.
Suggested Reading Age 7+
Other titles