Kyan Green and the Infinity Racers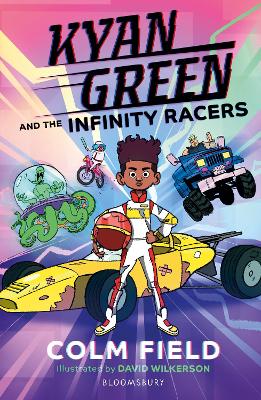 By Author / Illustrator
Colm Field, illus David Wilkerson
Genre
Adventure
Age range(s)
7+
Publisher
Bloomsbury Publishing PLC
ISBN
9781526641748
Format
Paperback / softback
Published
16-02-2023
Synopsis
The first book in a fast-paced, edge-of-your-seat adventure series from exciting debut author Colm Field.  Fans of Danny Wallace, Ben Miller and Rob Biddulph's Peanut Jones and the Illustrated City will race through this epic adventure!
Welcome, infinity racers! Prepare for an adventure that's out of this world ... and all of the others!  When Kyan finds a battered old racing-car game in the loft, he doesn't believe the big claims written on the box. I mean, what kind of 'Infinite Race' only has seven pieces of track?  So it comes as a shock when the game really does take him on the journey of a lifetime - through multiple universes! Whether he's a space pilot on the trail of underwater aliens or an unwitting robber in a stolen police car, every adventure is more thrilling than the last. When he lands in a universe as a stunt driver racing for a million-pound prize, he thinks he's found the way to save his family and their home. But the life of an infinity racer is about to prove much more dangerous than Kyan has bargained for...
Find out more from author Colm Field
Reviews
Jane
Kyan Green and the Infinity Racers is an adventure that combines humour, heart and the puzzling phenomenon of Quantum String Theory. It has a similar feel to the Kid Normal series (Greg James & Chris Smith) and, in concept, reminds me too of Joel Makonnen's Last Gate of the Emperor.
I can envisage boys in Years 3 and 4 (ages 8+) particularly enjoying the thrills and spills as Kyan, his sister Celestine, and his friends career off to different dimensions, firstly in pursuit of some action, later in a bid to rescue stranded friend Luke. But will they get the better of all the Mr Stringers before he removes Ky's family from their home in this world?
It could be read as a class, but the presentation (both font style and David Wilkerson's lively illustrations) lends itself to solo reading too. Either way, when the dust has settled on all the racing around, some readers might be prompted to consider if their own relationship with annoying siblings could be improved by practicing a touch of forgiveness and, even, gratitude.
320 pages / Reviewed by Jane, school librarian
Suggested Reading Age 7+
Jenny
Kyan Green and the Infinity Racers is a fresh, fun, fast paced and modern mind-bending, multi-universe adventure story for readers who like their worlds expanding!
Kyan finds a tattered, forgotten and old fashioned racing car game during an unwilling chore cleaning out the loft to earn precious time gaming on his tablet. There is nothing impressive about the tatty-looking item but exploring the contents gives Kyan and his sister a sudden, strange experience they can't explain and Kyan is curious to know more… It has the most odd and unusual instructions and Kyan is astonished to find that somehow, using the track, he is transported into a whole new universe as another version of himself altogether. Once there, he is sucked into a high speed racing car and is dramatically and dangerously driving for his life (and a million pound prize!)  
In his own life, winning a huge sum of money would save his family a whole heap of trouble and save them from their unpleasant, vindictive landlord, Mr Stringer. Can Kyan's actions in another universe help his 'real' life? When Kyan is flung back home from his racing escapade, he is determined to return and this time, unwittingly at first, his friends get taken along through time and space for the rides of their lives. From a universe in which they are pursued by police to one in which they hunt underwater aliens, the story is a whirlwind of action, excitement and dangerously close calls.
For Kyan, this is not just a game but a last chance hope to turn these amazing , unbelievable alternate universes into a way to save his family from being homeless. This invests the whole adventure with extra tension and emotion. In each universe the enemy is strangely familiar and each of the group encounter a different version of themselves - this is life and death live action at its most epic!
It is the loyalties and familiarities of these long standing friendships, however, that see the group through the weirdly wonderful lands and unexpected challenges, and which are at the heart of these adventures. The story is completely entertaining and lively with just the right amount of thrilling peril. The children's disappearance into a battered old game opens up a galaxy of bright, loud, exhilarating quests and possibilities.
320 pages / Reviewed by Jenny, teacher
Suggested Reading Age 7+
Other titles