Lenny Lemmon and the Invincible Rat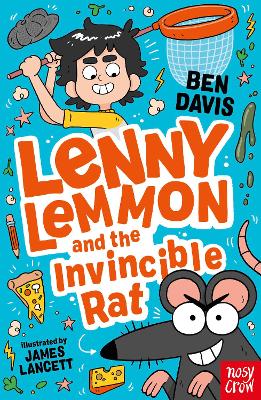 By Author / Illustrator
Ben Davis, James Lancett
Genre
Funny Stories
Age range(s)
7+
Publisher
Nosy Crow Ltd
ISBN
9781839949296
Format
Paperback / softback
Published
04-05-2023
Synopsis
Hilarious school-based comedy for 7+ with black and white illustrations throughout. A modern day Just William!

Lenny Lemmon is looking forward to Olden Days Day at school. It's a chance to break the routine and try school as it was years ago. It explains the blackboard in the corner, his teacher's bad temper and why his friend Sam looks like Oliver Twist.   And Lenny's pleased with his own contribution, too. It's in a cardboard box at the back of the class at the moment because it's not yet time to shine. Except it escapes and ends up in the bowl of sick, sorry, gruel, that Amelia Kelly has brought up, sorry, in.

Soon there are small, gruelly footprints all over the classroom and also a lot of screaming because the rat that Lenny found by the back of the chip shop is FREE. It takes the arrival of cool new girl, Jessica Conrad, to distract everyone. Jessica has a plan to catch the rat but it'll cost them.  Can the three kids round up the rat before more damage is done? Or will they end up in the headmaster's office - again. Maybe, but they're going to need a bigger net...
Find out more from author Ben Davis
Reviews
Elen
Lenny Lemmon and the Invincible Rat is a fast-paced, fun story for readers developing in confidence. The story centres around Lenny trying to do the right thing, and invariably bringing chaos to any given situation!
When the school announces it will be having a Victorian day, and children are invited to bring in a prop, Lenny decides that there is nothing more Victorian than a rat, and sneaks one into school, believing it is sure to help his class win the Victorian day competition.  When the rat escapes and pandemonium follows, Lenny and his friends must try to put things right.
This is a great story for children who love Pamela Butchart's Wigglesbottom Primary stories, or if you're looking for a follow-on from Horrid Henry young fiction stories. The illustrations are lively and fun, and the pace of the story never lets up, with lots of twists before a highly satisfying ending. I look forward to finding out what Lenny Lemmon gets up to next!
160 pages / Reviewed by Elen
Suggested Reading Age 7+
Other titles