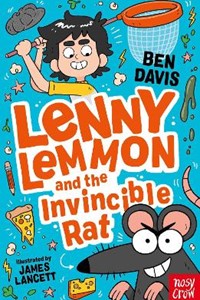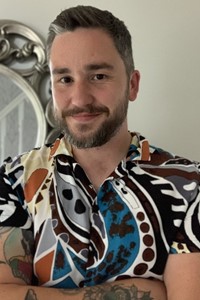 About Author
Ben Davis is an award-winning children's author whose books include The Private Blog of Joe Cowley and the critically acclaimed The Soup Movement. Before he became an author, Ben wrote jokes and sketches for radio shows. He lives in Tamworth with his family, works as a postal delivery worker, and in his spare time enjoys rock climbing, white-water rafting and pretending to have adventurous hobbies.
James Lancett is a UK based illustrator, storyboard artist and yellow sock lover! As a child growing up in Cardiff he was obsessed with cartoons, video games and all things fantasy. He studied BA Illustration and Animation at Kingston University and he now works as an illustrator and storyboarder for cartoons.
Interview
Lenny Lemmon and the Invincible Rat!  (Nosy Crow)
May 2023
Author Ben Davis turns to school stories and all the things that can go wrong in the classroom with his new series about Lenny Lemmon, a boy who tries to do the right thing but who can't help getting it wrong.... In Lenny Lemmon and the Invincible Rat, Lenny decides that bringing a rat to school will help boost his class's chance of winning an award for the best 'olden day' class. Needless to say, it all goes wrong and chaos follows.
Author Ben Davis tells us more about Lenny Lemmon and how memories of his school's Victorian Day inspired the story, and he reads from the start of the book in this short video:
Q&A with Ben Davis
1.   What brought you into writing for children, and what kinds of books do you enjoy writing? Do you do other kinds of work?
I always loved writing, but it never really occurred to me to write for kids until I got this idea at work one day. I was delivering mail and a couple of names on an envelope sparked it off. I quickly scribbled it down on one of those red cards, took it home and started writing! I had to immerse myself in kids' books again, and now I love it. Writing for kids is definitely my happy place. I do write for adults occasionally, but it's certainly not my comfort zone.

2. What happens in your latest book, Lenny Lemmon and the Invincible Rat? Why did you decide to write for younger readers?
Lenny Lemmon wants to help, but when he does, he invariably creates chaos. In this case he really wants to help his class win the Olden Days school competition. He hears that there were lots of rats around back then, so he brings one into school in a hamster cage. Obviously, the rat escapes and PANDEMONIUM ensues.
3. What inspired the story - and have you drawn any inspiration from real life incidents about escaped rats, Victorian gruel, etc?
It was inspired by a Victorian Day at my school when I was in Year Five. I hated every second of it. The teacher was really strict, the lessons were horrible and PE? The worst. So I thought what could disrupt a school Victorian Day and throw the whole thing into chaos? A crazed rat, of course.

4. What do you think today's children would be most shocked about the Olden Days?
I think Lenny sums it up best when he says: "Super-long days of boring school, before going home to a cold house with no TV and catching some horrible disease of the lungs and having to live in a metal tube for the rest of your life? No thanks."

5. How did your character Lenny Lemmon develop? Why do things keep going wrong for him?
Lenny is something of a change of pace for me, because my main characters are usually like I was at school: terrified of getting in trouble. I found his voice developed quite quickly when I paired him up with Sam, who is more like me. I used Del and Neal from Planes, Trains and Automobiles as inspiration for their dynamic.

6. It's a very funny read - so what kinds of things make you laugh, and which part of the book made you laugh the most?
I'm terrible for laughing at my own jokes. I suspect it's a dad thing. There's a joke where Ratty chews on a thesaurus that I allowed myself a self-congratulatory chuckle over. Also, all the Jaws references I sneaked in there.

In terms of what makes me laugh, I have a pretty wide taste: slapstick, wordplay, character stuff. I'm a pretty good audience.

7. What about the illustrations - do you have any favourite characters or moments?
I adore James Lancett's illustrations. I remember when I first saw them, I had the hugest smile on my face. He gets across the pandemonium aspects brilliantly. Ratty, in particular, is inspired, with that malevolent grin.

8. What else do you have planned for Lenny Lemmon and his classmates?
Well, there is another book called Lenny Lemmon and the Trail of Crumbs coming in October. That's about a surprise school inspection which Lenny and the gang try to ensure the school passes. Unfortunately, the school has its own dog called Crumbs, who has other ideas.

9. Where and when do you do your best writing?
I write whenever I get time, often early mornings and evenings. I tend to get a lot done in the kitchen. The problem with that is, it's where all the snacks are.

10. What do you most enjoy doing when you have a day away from writing or work?
Those days are very few and far between, so as little as possible!
Author's Titles