Let's Play: Children's Games From Around The World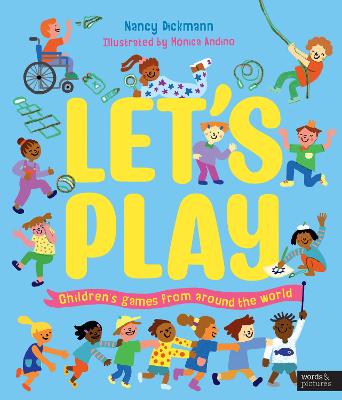 By Author / Illustrator
Nancy Dickmann, Monica Andino
Genre
Non Fiction
Age range(s)
5+
Publisher
Quarto Publishing PLC
ISBN
9780711283756
Format
Hardback
Published
28-09-2023
Synopsis
Say goodbye to boredom with this globe-spanning guide to the world's favourite children's games, to play by yourself, with family or friends!

Let's Play is a joyfully illustrated collection of games from all around the world for you to discover and enjoy. Games for one player to five players, and even large groups, are clearly explained and provide endless opportunities for playful adventure, alongside a resource for learning about cultures and traditions from countries across the globe.  The exciting array of games includes:


solo puzzle games like Jegichagi (South Korea)


big party game Catch the Dragon's Tail (China)


head-to-head Kolowis Awithlaknannai boardgame (Zuni Native American)


hilarious Oonch Neech (a variation of Tag from Pakistan)


Additional sections give you the background to classic games like tag and hide-and-seek and talk you through making games of your own. Vibrant illustrations from Monica Andino carefully demonstrate the steps of the games, whilst bringing to life the fun and joy they offer.  The possibilities are endless, and with this book, the fun will be, too!
Reviews
Sue
The importance of play, both free and imaginative and guided, cannot be underestimated - and yet, it seems to be something on the decline. Developing teamwork, independence, resilience, empathy… there are so many reasons why play should be encouraged and this fabulous book, Let's Play: Children's Games From Around The World, is perfect for home or school.
The fact that these games are taken from across the world only adds to its appeal. Some may be familiar or a twist on those already known whilst others might be completely new. Each game is carefully explained with step-by-step instructions and illustrations. Some are for playing independently, others for playing with friends - all could be adapted with a little imagination! Extra challenges and suggestions are also included, extending the fun. Children can be encouraged to look at a map of the world to locate the country of origin for the game, making connections and realising how much people have in common!
This is a brilliant resource, not only for home, but also school. Encouraging dinner staff as well as anyone on playground duty to organise a few games is always a brilliant thing to do, making playtimes more enjoyable for the staff on duty as well as engaging children. There are activities here which could also be used during wet playtimes or indoor play. A spread at the end of the book encourages children to think about developing their own games. A brilliant, inspiring book!
64 pages / Reviewed by Sue Wilsher, teacher 
Suggested Reading Age 5+
Other titles