Libby and the Parisian Puzzle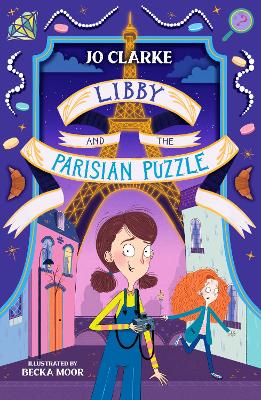 By Author / Illustrator
Jo Clarke
Genre
Mystery & Detective
Age range(s)
7+
Publisher
Firefly Press Ltd
ISBN
9781913102708
Format
Paperback / softback
Published
03-03-2022
Synopsis
Mystery-lover Libby is excited but nervous when she's sent to live with her aunt while her mother is working abroad. Aunt Agatha is the headmistress of an extraordinary travelling school that moves from country to country. Libby joins it in Paris, where she is just starting to find her feet when her aunt is arrested, accused of a daring jewel robbery. Can Libby and her new best friend Connie find the real thief and save her aunt? Illustrated by Becka Moor.
Reviews
Jennifer
Libby and the Parisian Puzzle is a fabulous, enchanting mystery/adventure sleuthing story, ideal for MG readers and fans of the young detective genre (for example, the Agent Zaiba series by Annabelle Sami and the Clifftoppers mysteries by Fleur Hitchcock). It is a charming, intriguing and perfectly pitched perilous plot set in Paris where young Libby's aunt, the Head of a wonderfully imagined travelling school, appears to have been framed for a jewelry robbery.
The book is deliciously illustrated by the talented Becka Moor who brings characters, their personalities and the plot's pivotal moments to life with her fun and warm style. The sparkling Parisian book cover is just enchanting.
The story features delightful descriptions of a timeless Paris - historic buildings, winding streets, balconies and creeping vines. We are given a cast of characters to watch, suspect and investigate - from the untruthful teacher Miss Browne to the mysterious woman in a distinguishing black and white coat that seems to be everywhere they go.
Libby is an enthusiastic and determined detective who is adamant her aunt is innocent and, with her new (very posh) friend, Connie, will stop at nothing to add the clues together and prove her aunt is not the thief.
A really enjoyable and fresh story -  fun, warm-hearted and light.
288 pages / Reviewed by Jennifer Caddick, teacher
Suggested Reading Age 7+
Other titles