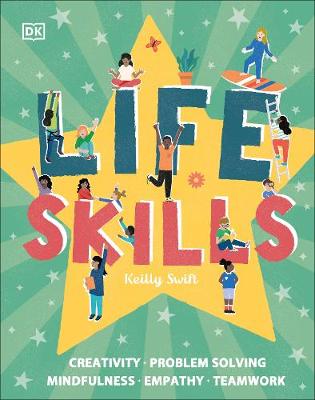 By Author / Illustrator
Keilly Swift
Genre
Non Fiction
Age range(s)
7+
Publisher
Dorling Kindersley Ltd
ISBN
9780241467565
Format
Hardback
Published
01-04-2021
Synopsis
A beautifully illustrated book that covers the essential life skills that children need to know.  Discover how you can become the awesome person you want to be with this guide to essential life skills for children. This book helps kids tackle the difficulties they face and helps them to prepare for whatever the future may hold.  Inside the pages of this essential life skills book, you'll discover:
- Clear and practical life skills divided into 5 chapters covering: Finding Solutions, Ways of Thinking, Communicating, Understanding Feelings, and Coping in Life
- Bright, fun illustrations that help readers to digest complex topics like understanding body language and decision making
- Topics that drill down into all the different aspects of life skills education for 7-9-year-olds, such as communication, solving problems, understanding yourself and others, and critical thinking skills
- Practical advice and activities on how to think up solutions for difficult problems, how to work with other people as a team, and how to write a feelings diary

This illustrated guide for children includes practical advice and real-life examples that teach problem-solving, how to make good decisions, and excellent communication skills. Children will learn how to better assess and react to challenges they may face, as well as create coping strategies for difficult situations.  Kids can work through engaging activities like making mind maps, thinking about body language, and putting themselves in someone else's shoes. Developing life skills not only leads to better prospects at school and in a future career, but it also gives young people more confidence to aim for a bright, secure and happy future.
Reviews
Sam
Life Skills by Keilly Swift is a brilliant guide, teaching children essential life skills that they will undoubtedly need as they grow up. Helping children and young adults to deal with difficult situations, make good decisions and gain confidence.
This is an absolutely brilliant book and I think there should be at least one copy in every Key Stage 2 classroom and school library. It covers an absolute wealth of topics and skills, many of which are not taught in school, but are valuable in life. Covering topics such as communicating (both verbally and nonverbally) effectively, coping with stress and understanding feelings.
This fab book gives creative solutions to problems, making problem solving simple and easy to do. I liked the use of colour and enjoyed looking at the illustrations throughout this book and although I think this gives a more young child first impression I think it is far more suitable for children of upper Key Stage 2 age. Alternatively a book to be shared by adult and child, where some of the topics could be discussed further.
96 pages / Reviewed by Sam Phillips, teacher
Suggested Reading Age 9+
Other titles