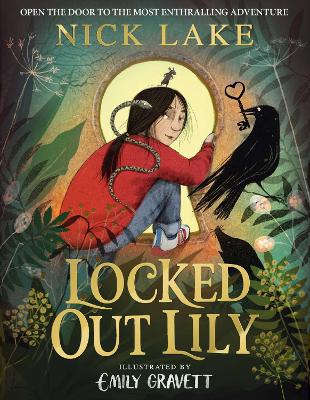 By Author / Illustrator
Nick Lake, Emily Gravett
Genre
Mental Health & Wellbeing
Age range(s)
9+
Publisher
Simon & Schuster Ltd
ISBN
9781471194832
Format
Hardback
Published
30-09-2021
Synopsis
A startlingly original, stunningly-illustrated modern classic about learning to face your fears from the multi award-winning partnership of Nick Lake and Emily Gravett.

Lily just wants things to go back to the way they were: before she got sick, before her parents decided to have another baby. So when she's sent away to stay with her grandmother while her mum has the baby, Lily is determined to go home. But she doesn't expect to find people in her house - people who look like her parents, but definitely aren't ... Together with some unlikely animal companions, Lily must face her fears and summon the courage to break into her own house, and defeat 'The Replacements' before the night is out.

Nick Lake's atmospheric story of family and friendship is brought to spectacular life by Emily Gravett, twice winner of the Kate Greenaway Medal.  'A book of such wit and flair and delight: the kind of book you finish and immediately begin again, so that you can live again alongside the characters' Katherine Rundell, bestselling author of The Explorer.
Reviews
Jennifer
Locked Out Lily is an eerie, atmospheric, intriguing and totally compelling thrill of a story. I absolutely loved this book. Lily is battling a serious illness but her parents will soon need to divide their attention between her and a new baby - a sibling that Lily does not want in any way and is furious at the idea of. Lily is sent to stay at her grandmother's when her parents go to the hospital but, full of anger about the whole situation, she sneaks away and runs back to her own (supposedly empty) house.
Back home, however, she finds imposter parents - the Replacements - who may look like her parents but definitely are not her true mum and dad. They want rid of Lily and are a threat to her and her whole family. Locked out by these spiteful creatures, Lily finds herself an unusual supporting cast as talking animals Crow, Mole, Mouse and Snake pledge to help her take back control of her home and her life. Her animal squad are so full of fun, wit and personality that both Lily and the reader quickly takes them all to heart. They are full of fierce loyalty to Lily; tiny but huge hearted and brave.
This is such a gripping story that completely holds the reader in its shadowy, edgy and uneasy aura. The illustrations by the talented Emily Gravett are a perfect complement to the tense storyline and add deliciously to the sense of danger and drama. The creepy and malevolent Replacement parents are brilliantly imagined characters. I am a huge fan of the book Coraline by Neil Gaiman with its 'other-mother' character and these fake, sinister parents are just as unnerving and grotesque.
Lily herself is an angry, stubborn and prickly character but we see that, ultimately, her love of her family and her friends drives her on to overcome physical obstacles and face her fears. She is determined and furiously indignant that the Replacement parents dare threaten her true family and these strong emotions have us rooting for her to find her strengths and defeat the evil that pervades her family home. Locked Out Lily is simply stunning. One of the best books I have had the privilege to be sent to review.
240 pages / Reviewed by Jennifer Caddick
Suggested Reading Age 9+
Louisa
Lily wishes she could go back to how everything used to be - before she was ill, before she had to spend so much time in hospital and before her mum was expecting the Baby. She has been sent to stay with her grandmother because now her mum is actually having the Baby, but Lily is determined to get back home. She sneaks out as soon as Granny is asleep but finds her house is occupied by creepy strangers who look like her parents but definitely aren't. They push her out and lock the door. Lily is not, however, entirely on her own. A crow, a mouse, a mole and a snake - all of them able to talk - appear at her side advising, encouraging and insisting that she breaks in and defeats 'The Replacements'.
The intense colours and gold lettering on the sumptuous cover artwork by Emily Gravett immediately made me want to sink into this story and I wasn't disappointed. It's a compelling read that operates successfully at different levels. At the simplest, it's a straightforward children's tale of good against evil, with all the excitement and frissons of fear that you'd expect. Tense scenes are interleaved with contrastingly funny moments. These are not the serious talking creatures of Narnia.
Behind the surface, there's an lurking sense of mystery. Who really are the animals or the Replacements? Are they just "manifestations of Lily's subconscious"? I enjoyed the way the author doesn't commit to a straight answer, leaving room for interesting conversations with children about interpretation and symbols.
All through, key moments and objects are illustrated with haunting black and white pictures that add to the drama and atmosphere of the story. It would make a great read aloud for Year 4 - but you'd have to find a way of sharing the pictures!
240 pages / Ages 8+ / Reviewed by Louisa Farrow, teacher
Suggested Reading Age 7+
Other titles