Loki: A Bad God's Guide to Taking the Blame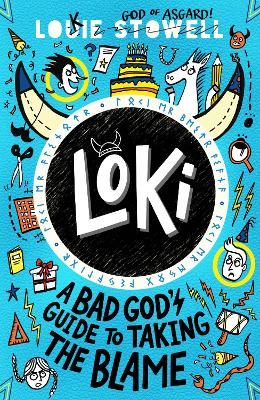 By Author / Illustrator
Louie Stowell
Genre
Funny Stories
Age range(s)
7+
Publisher
Walker Books Ltd
ISBN
9781529501223
Format
Paperback / softback
Published
04-08-2022
Synopsis
Odin has given Loki another chance to prove himself worthy of Asgard. But earning everyone's trust is tricky, and when Thor's hammer goes missing, everyone blames Loki! Outrageous!
To clear his name he must:
1) Find Thor's beloved hammer
2) Uncover the real thief
3) Force everyone to admit they were wrong
An easy feat for someone as handsome and clever as Loki...
Find out more from author Louie Stowell
Reviews
Linda
If I were to write down a list of my class's favourite things to find in a book, the latest installment in the Loki series would hit them all. Utterly madcap? Check. Hilariously funny? Check. Completely random? Check. Filled with glorious illustrations? Check The list could go on!
Louie Stowell's newest offering is undoubtedly a triumph. Having loved the first book in the series, I was not at all surprised to find myself enthralled by the second. Loki: A Bad God's Guide to Taking the Blame is utterly brilliant. It's zany, unpredictable and full of heart. The characters are likeable (even the lovable rogue, Loki), full of fun and have jaw-dropping attitude. The story itself is enjoyable and well paced. I particularly loved the Norse mythology references, which I believe set these books apart from their Wimpy Kid or Tom Gates counterparts, giving them much more depth. The presentation is spellbinding - each page has something different to look at, which makes the book fun to read and less threatening for some more reluctant readers.
This book would be enjoyed by pupils in Year 4 and above and is sure to be a huge hit with a diverse range of readers. I cannot wait to add it to my classroom bookshelf.
288 pages / Reviewed by Linda Canning, teacher
Suggested Reading Age 7+
Donna
Loki, disguised as 11-year-old schoolboy Liam, is once again trying to prove that he can be a Good God in Loki A Bad God's Guide to Taking the Blame, the second book in the Loki series by Louie Stowell. Seeing out his punishment by Odin in the mortal world, as part of a 'family' with Thor [or Thomas] as his brother, he must overcome his natural tendencies to lie, cheat and hurt others in order to win virtual points and return to Asgard. But when Thor's hammer goes missing, Loki is prime suspect...only this time he didn't do it. In his efforts to uncover the true thief, he jeopardises his first real friendship.  Can he race against time to uncover the thief, stop the Frost Giants, save his brother, and get everyone to admit that they were wrong? Or will the lure of revenge, evil and chaos be too much for him to ignore?
Louie Stowell has once again created a hilariously funny diary-style adventure for Loki to rampage through. The humorous observations of a Norse god in a mortal world bring no end of amusement to the reader as we wonder at the strange way that we live our lives as seen by Loki. The inner thoughts of Loki give us insight to how the god of mischief justifies his actions and really believes he is doing things for the right reasons.
The fun, comic-style illustrations add to the appeal of this book too. Curriculum links: family, friendship, truth, honesty, trust, jealousy, Norse mythology.
288 Pages / Reviewed by Donna Burkert, teacher
Suggested Reading Age 7+
Other titles