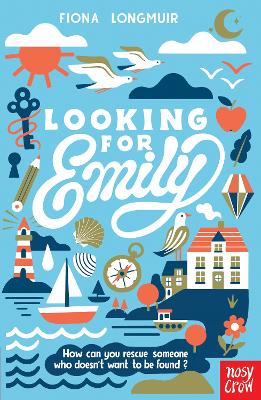 By Author / Illustrator
Fiona Longmuir
Genre
Mystery & Detective
Age range(s)
9+
Publisher
Nosy Crow Ltd
ISBN
9781839942754
Format
Paperback / softback
Published
02-06-2022
Synopsis
A hugely gripping, fast-paced mystery adventure, with brilliant twists and turns, from a fresh and exciting new voice in children's books.
When 12-year-old Lily moves to the sleepy seaside town of Edge, she's sure that nothing exciting is ever going to happen to her again. But when she stumbles upon a secret museum hidden in the middle of town, she realises that there might be more to her new home than meets the eye.  The Museum of Emily is filled with the belongings of one seemingly ordinary girl - a girl who, many years ago, disappeared from the town without a trace. With the help of her new friends Sam and Jay, Lily is determined to solve the mystery and find out who Emily was, why she disappeared and who has created the strange, hidden museum.
With a one-of-a-kind mystery, a brilliant trio of protagonists, and an action-filled story, Looking for Emily is the unmissable middle grade debut of 2022.
Find out more in this video and Q&A with author Fiona Longmuir
Reviews
Hayley
Lily is the main character in Looking for Emily, and the story starts when she has just relocated from the bustling city to the very quaint seaside town of Edge with her mom. Lily truly believes that nothing exciting is ever going to happen to her again because the town of Edge is very boring. However, that is until one day Lily stumbles across the museum of Emily in a bizarre location. The museum is dedicated to the life of someone called Emily and everything from apple pie recipes to pencils are on display.
Being new is not easy, especially in such a small town, so when Lily makes friends with Sam and Jay, she confides in them about the mysterious museum of Emily and they embark on an adventure to find out who Emily was. The three friends spend many hours in the small library searching through documents that could give any information about who she was and that is when they discover that Emily mysteriously disappeared 20 years ago. As we journey with Lily, Sam and Jay, they piece together missing parts of the puzzle and have several close encounters with a notorious villain claiming to be related to Emily and wanting to know where the diamond is.
The story takes us from the past to the present and relives stories from the sea about pirates and smugglers that were once part of the Lighthouses history in the small town of Edge. The true meaning of friendship is tested and Lily's character shows courage and bravery in finding the answers, even if this means sneaking out in the middle of the night by climbing down the drain pipe.
From close encounters with a villain, to near death experiences in a cave, these remarkable characters allow us to escape into their world and be part of the adventure story with them. This would be an excellent book for Key Stage 2 to study. The story line is thrilling and the characters are relatable and each has their own true quality that could bring writing sessions to life if used as a teaching aid. The themes of friendship, courage and family are really powerful teaching points and could be utilised across the Key Stage 2 curriculum.
272 pages / Reviewed by Hayley Summerfield, teacher
Suggested Reading Age 9+
Other titles