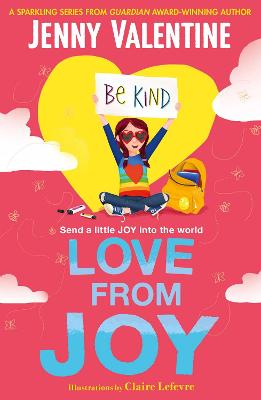 By Author / Illustrator
Jenny Valentine
Genre
Bullying
Age range(s)
9+
Publisher
Simon & Schuster Ltd
ISBN
9781471196508
Format
Paperback / softback
Published
19-08-2021
Synopsis
For readers aged 9+ comes the second book in a sparkling new series about family, friends and finding the joy in life! From the mind of Guardian award-winning author Jenny Valentine, this is the perfect series for fans of Jacqueline Wilson, Cath Howe and Lara Williamson!

Hi! My name is Joy Applebloom and I'm ten years old.  People say I am a 'glass half full' kind of person, which basically means I see the good in everything. And right now I'm going to need all my powers of positive thinking to fix a really tricky situation . . .  My new best friend Benny just hasn't been himself lately. I have to find out what's going on and bring back Benny's special smile for good...

A heart-warming and positive story about family, friends and the importance of kindness with gorgeous illustrations from Claire Lefevre.
Reviews
Louisa
Joy Applebloom returns with her messages of kindness and optimism. If there's ever a silver lining to a cloudy situation, Joy will be the one to find it. In fact, she likes to consider herself an expert in silver linings. In Love From Joy, she has eight big and serious things on her mind, including her Grandad's loneliness, hostility between her elder sister and her parents and the suspicion that her best friend is being bullied. Being Joy, she's determined to find solutions to all of them - and stay up to date with her ambitious programme of letter writing.
Love From Joy is accessibly written in a chatty and deceptively simple style that captures Joy's open personality perfectly and it's not too long either. This makes it ideal for children in Year 5 and 6 who are still building reading stamina; because Joy and Benny are both in Year 6, it doesn't feel patronising.  For me, it has the same appeal as the Good Dog McTavish books by Meg Rossoff. However, as much of the humour and entertainment comes from Joy's imaginative use of exaggeration and figures of speech, it may not be ideal for those with very literal understanding of spoken language.
After the heartwarming story of A Girl Called Joy, I was really looking forward to a dose of optimism in this sequel. I wasn't disappointed. While not a huge amount happens, it's gently amusing with a humour that comes from Joy's creative use of language and a warmth that comes from her good intentions. It's full of subtle and not so subtle messages about the importance of kindness and speaking out to help others (even bullies), so it has a contribution to make to the PSHE agenda - but I would mainly recommend reading it just for fun.
224 pages / Reviewed by Louisa Farrow
Suggested Reading Age 9+
Other titles