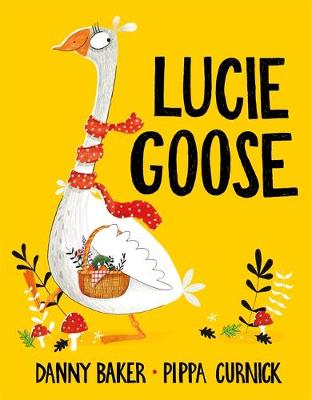 By Author / Illustrator
Danny Baker, Pippa Curnick
Genre
Adventure
Age range(s)
5+
Publisher
Hachette Children's Group
ISBN
9781444937404
Format
Paperback / softback
Published
05-10-2017
Synopsis
A magnificently funny first picture book by Danny Baker, the popular comedy writer, journalist, radio DJ and screenwriter. Illustrated by rising star Pippa Curnick.

Lucie Goose lives all alone in a house at the edge of the woods. She has never met or spoken to another animal of any sort until... a wolf, bear and lion turn up on her doorstep and go Rraaaarrrrrr! She should start screaming. She should run away. But Lucie Goose isn't very good at being scared. What will she do?

Introducing a wonderfully charming and funny new picture book from two remarkable talents.

Shortlisted for the Evening Standard Oscar's First Book Prize.
Reviews
Marie
Lucie Goose is a great story by Danny Baker. It tells the tale of Lucie the Goose who has lived on her own for many years. In fact she has never met another animal. So when one day she come face to face with a big bad wolf, his roars mean nothing and rather than be scared, she invites him in for a cup of tea. Lucie Goose has no idea that geese should be scared of wolves and the wolf is none too pleased by Lucie's lack of fear. After he storms off, the next visitor is an enormous bear. Again he tries to scare lucie with a giant roar, but again Lucis is not scared and thinks the idea of running away from the bear screaming is a silly one. In fact she tells the bear how comfy and nice she thinks he seems. Later, when a fierce lion approaches and echoes his loud roar, Lucie isn't remotely scared and offers tea and cake again. When Bruce Goose arrives later he explains to Lucie that no one is ever scared of geese but is happy to join join her for tea and cake. Then, as the sun sets, three animals come running to Lucie's house telling her how they really do like tea and cake, and in the background something even bigger has appeared to scare them all...a dragon! I really enjoyed this book with my children. It was funny and well written with lots of exciting vocabulary. The illustrations by Pippa Curnick are really lovely and there are lots of different things to discuss within each page. I'd recommend reading this book with your children I think that they will really enjoy and engage with the story. Picture book / Ages 4+ / Reviewed by Marie Berry, teacher.
Suggested Reading Age 5+
Other titles