Make Tracks: Building Site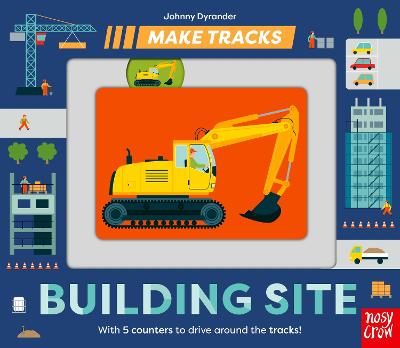 By Author / Illustrator
Johnny Dyrander
Genre
Early Skills
Publisher
Nosy Crow Ltd
ISBN
9781788009669
Format
Board book
Published
06-05-2021
Synopsis
A brand new series of chunky board books featuring things that go and sliding counters!  Discover five different building site vehicles in this interactive board books with easy-to-use moving parts.
Learn vehicle vocabulary with simple first words, clear diagrams and helpful text prompts to encourage discussion. Then trace 5 types of transport around 5 different tracks with a moving counter on every spread and the cover. The perfect book for children who love diggers and dump trucks - and being in the driving seat!
Other titles in the series include: Farm
Reviews
Jessica
The Make Tracks: Building Site book with movable counters is a sure winner for any active baby or toddler who has an inquisitive nature and a fondness for all things that move! Do you know a vehicle enthusiast who always wants to find out more? The left-hand side of each double-page spread will fill them with joy! There are labels for each part of the vehicles, for example: engine, chute, canopy, cab, exhaust and dipper. At the top of each page, there is also a brief description of each vehicle that may be found on a building site. Here, you'll learn all about: concrete mixers, dump trucks, excavators, bulldozers and front loaders.
Once you've got to know all about the 'things that go', it's time to take them on a journey around the building sites using the counters. This is a great opportunity to exercise those fine motor and co-ordination skills as little hands need to steady the book with one hand and use the other to slide the vehicles around the page. This interactive element can be enjoyed repeatedly during independent play.
As your toddler grows, they can even use these tracks to create stories and conversation between the builders and vehicles on site. My little one has really enjoyed using the tracks in this book for her small push along cars. 1:1 correspondence is an important skill and one of the earliest ones our children will be taught to master. Every page poses a 'How many?' question to the child. This encourages our children to look closer at the illustrations and use their fingers to point to each object to count them. There are endless possibilities for extending this task with multiple things your child could choose to count, for example: cows, houses, people, trees and of course, vehicles.
Building Site is just one of the books in the Make Tracks interactive board book series by Johnny Dyrander for all things that go! Included in this series is: cars, trains, emergency transport and farm vehicles.
Interactive board book / Reviewed by Jessica Bunney, teacher
Suggested Reading Age 0+
Other titles