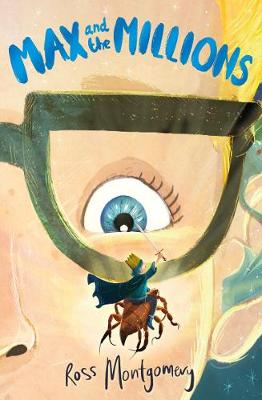 By Author / Illustrator
Ross Montgomery (author)
Genre
Adventure
Age range(s)
7+
Publisher
Faber & Faber
ISBN
9780571333486
Format
Paperback / softback
Published
01-03-2018
Synopsis
From Costa-shortlisted superstar, a highly anticipated standalone adventure about what happens when you find a tiny, living, breathing civilization on the floor of your school dorm room.Max is used to spending time alone - it's difficult to make friends in a big, chaotic school when you're deaf. He prefers to give his attention to the little things in life . . . like making awesome, detailed replica models. Then Mr Darrow, the school caretaker and fellow modeller, goes missing. Max must follow his parting instruction: 'Go to my room. You'll know what to do.'There on the floor he finds a pile of sand . . . and in the sand is Mr Darrow's latest creation . . . a tiny boy, no bigger than a raisin, Luke, Prince of the Blues. And behind the tiny boy . . . millions of others - a thriving, bustling, sprawling civilization!'A fast-paced and enjoyable adventure that encourages readers to appreciate the small things in life.' Kirkus'A delightful whiff of Monty Python . . . Ross Montgomery's writing is often pure Douglas Adams.' SFX'Totally off-the-wall story. The world building is superb.' The Bookbag'A funny, well plotted tale.' Sunday Express'Marvellously funny and original . . . it's the tiny details that make the story work.' Financial Times'An inventive and funny adventure.' Inis Children Books Ireland
Reviews
Max

- Age 10
It introduces an amzing storyline right from the beginning to keep any reader carrying on and shows all the fantastic elements every story needs to make you carry on. It includes small amounts of humour while continuing with the outstanding story and allowing new things to fall into place as you read more. All together this book classifies as one of my favourites and with a satisfying ending any reader will enjoy it makes it a perfect book!
Suggested Reading Age 9+
Aidan
As with all good children's books these days, this isn't just a straight yarn. Max and the Millions by Ross Montgomery begins by introducing one of the unlikely heroes of the story - a school caretaker with more than just a knack for building intricate models of anything and everything. Next we meet Mr Pitt, the typically unlikeable headmaster. And then we encounter the story's other (full-size) hero: Max, who is hiding in a cupboard. Max loves making models; he's also deaf. This representation of a minority group is important in children's literature. Montgomery writes sensitively and convincingly about the trials a deaf child might face, making this an important lesson in empathy for young readers. Although this is a story about how a warring society of magically-created microscopic people are rescued by a seemingly improbable pair of pre-teen boys and a hoard of pony-obsessed five-year-old girls on a sugar-bender, it is also a story about friendship, fitting in, integrity and small things mattering. Whilst Lower Key Stage 2 children will enjoy the miniature adventures of King Luke and his trusty flea as he fights the Bin King and the Red Queen, they will also pause to think about how first impressions don't always count, how kindness and selflessness are key characteristics to develop in oneself, and how forgiveness is an essential ingredient for peace and friendship. The story's absolute highlight comes when (slight spoiler alert) the tiny Luke becomes king of the united people of The Floor (the minute kingdom the small people inhabit). The power goes to his head and, despite his friend Ivy's warnings, he forgets the golden rule: do unto others as you would have them do unto you - with disastrous consequences. Even if no other part of the book is used as a talking point between adults and children, this part should be; it opens up a safe space in which to discuss politics and has parallels to current situations that are playing out on the world stage. The headmaster's despotic antics throughout the book also provide opportunities to discuss similar issues. This well-written book is a great choice for parents and teachers of children who have expressed interest in world affairs but who might be too young to fully understand the complexities and unpleasant details of the situations. It's also recommended for fans of stories such as Terry Pratchett's The Carpet People stories - those young but capable readers who are quite at home in stories with impossibly fantastical settings. 272 pages / Ages 8+ / Reviewed by Aidan Severs, teacher.
Suggested Reading Age 7+
Other titles