Mermedusa (An Eerie-on-Sea Adventure)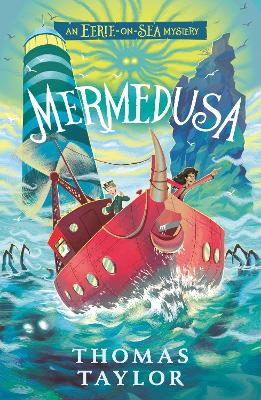 By Author / Illustrator
Thomas Taylor
Genre
Adventure
Age range(s)
9+
Publisher
Walker Books Ltd
ISBN
9781529502138
Format
Paperback / softback
Published
07-09-2023
Synopsis
Herbie and Violet's fifth gripping adventure brings the internationally bestselling Eerie-on-Sea series to a heart-stopping climax.

It is midwinter once again, and the hosts of a paranormal podcast have descended on Eerie-on-Sea eager for a sighting of the legendary malamander. Herbert Lemon, Lost-and-Founder at the Grand Nautilus Hotel, is feeling uneasy - and not just because of the visitors. He's being plagued by unsettling dreams, and the head-splitting "Eerie Hum" that is reverberating through the town.

Something is dreadfully wrong, and it seems to be coming from Eerie's very core. Herbie and his friend Violet Parma will need all their courage as they head deep below the town to seek answers. Perhaps here, finally, they - and the malamander too - will discover the Deepest Secret of Eerie-on-Sea.
Find out which seaside towns helped inspire the Eerie-on-Sea series in this Q&A with author Thomas Taylor
Reviews
Wendy
So here it is! We've reached the end of Herbie and Violet's winter shenanigans with the explosive story of the Mermedusa. Those devoted readers who have followed all their other adventures will find many loose ends pleasingly tied up in their final (perhaps?) adventure. Thomas Taylor takes us back to Eerie On Sea just before Christmas; the Winter Solstice is upon them and the terrible memories of the Malamander feature heavily in both Herbie and Violet's thoughts. However, they are distracted by a group of visiting podcasters (think Most Haunted or Uncanny) as well as other misfortunes such as the return of an old adversary, a broken Mer Monkey and a very poorly Erwin, the bookshop cat. Can Herbie and Violet fight on, side by side, to solve the biggest mystery of Eerie-On-Sea, or will they finally fall victim to the forces trying to stop them from discovering the truth? And will poor Erwin ever stop coughing?
This book is a fine read for junior children and adults who love a bit of creepy seaside melodrama and cracking storytelling! I have no doubt it will be on a lot of Christmas lists this year and any self-respecting school library should ensure they have all of Herbie and Violet's adventures in stock and prominently displayed. Fans of Lemony Snicket and Crater Lake will love these books just as much.
Now, shall we all join forces and persuade Thomas Taylor to write a book about Herbie and Violet's summer, in the happy little town of Cheerie-On-Sea? Or shall we bide our time and wait for winter again....?
336 pages / Reviewed by Wendy Kelly, teacher
Suggested Reading Age 9+
Sue
This, the fifth and final trip to Eerie-on-Sea, concludes Herbie and Violet's adventures and, like others I'm sure, I read Mermedusa with mixed feelings - delight at another visit to one of my favourite fictional places and great sadness that there would be no more!
The hosts of the Anomalous Phenomena podcast have arrived in Eerie-on-Sea with the intention of uncovering the truth about the Malamander and broadcast this to the world. Already troubled by unsettling dreams and a strange humming throbbing through the town, Herbert Lemon, Lost-and-Founder at the Grand Nautilus Hotel, is horrified when his arch-nemesis, Sebastian Eels, re-appears in the town. Together, Herbie and Violet must discover the Deepest Secret of eerie-on-Sea- and 'find' themselves in the process.
Mermedusa is a stunning finish to what has been the most enjoyable series of books. Thomas Taylor cleverly draws all the threads of the story together, offering a satisfying conclusion to the mysteries of Eerie-on-Sea. Most importantly, Violet and Herbie have not only found themselves, but have found each other in a true and enduring friendship, which really shows how opposites attract and complement each other! Each character in these books is wonderfully unique and completely unforgettable, from the Mermonkey at The Eerie Book Dispensary and Erwin the talking cat, to the eccentric Lady Kraken who watches the town with her cameraluna and grumpy hotel manager, Mr Mollusc, who the reader learns more of in this final book.
As well as making an excellent series to be enjoyed and explored independently, these books are excellent for guided reading sessions or as whole class story time texts. Full of humour and heart, there are so many ways in which the Eerie-on-Sea Mysteries are perfect for developing a love of reading.
336 pages / Reviewed by Sue Wilsher, teacher
Suggested Reading Age 9+
Stephen
Welcome back to Eerie -on-Sea, where everyone knows not to go out on the beach at night, especially when it's almost midwinter. But that isn't going to stop the members of Anomalous Phenomena podcast group, who are in Eerie on a monster tour, hunting down evidence of the fabled Malamander! While initially they don't find the creature, they do find the dastardly Sebastian Eels, much to the horror of Herbert Lemon and Violet Parma. Herbie has also been having troubled dreams and strange feelings and unusual things are happening across the town - even the Mermonkey in the Book Depository has stopped working - though not before typing out the word Mermedusa! Coincidence? Or is there something going on in Eerie, something that could shake the town to its core...?
Mermedusa is the final instalment of the Eerie on Sea Mystery series and Thomas Taylor as created a mystery and adventure to get the pulse racing and the pages turning for all Eerie fans! Violet and Herbie are on top form again, investigating and sleuthing their way around the greatest mystery yet to hit Eerie and one that will have consequences for them both. Previous characters including Mrs Flotsam, Dr Thalassi, Mrs Kracken and Erwin the talking cat are all involved.
I really enjoyed the descriptions of Eerie at midwinter, they were very atmospheric and I could really feel the atmosphere - the cold, the dark, the glowing mist and strange noises, and the daring adventure, and the sometimes audacious leaps of logic from our main characters when working out what is going on Eerie. Taylor's writing is never better than when Violet and Herbie are in danger or adventure. Look out for the chase scene in the Maw Rocks - it's breathtakingly brilliant with not one but two 'monsters' chasing them!  Along with mystery there is also a touch of magic too - but I'll leave you to discover this for yourselves!
The book includes a map of the town of Eerie-On-Sea so you can follow the adventure round the town and coast, and there is also an illustrated guide to the town of Eerie on Sea, which helped to bring the town even more to life!
This is the final part of the series and there are several strands weaving through the story, with most coming together in the dramatic revelatory conclusion, while others like Violet's 'Berthday' add a nice side story and tie up loose ends. There are mentions of other adventures throughout the story and this is no surprise, being the final book, and while you can read this and enjoy it, I would recommend reading some of the other novels in the series before this - you'll get even more out of this book if you do!
I've really enjoyed the Eerie-On-Sea mysteries. A brilliant series full of great characters, monsters, mysteries and adventures. While Erwin suggests "The only thing more mysterious than magic … is what tomorrow will bring", I do hope Taylor may take us back to Eerie in the future! Till then there are the five Eerie on sea mysteries to re-read and enjoy!
336 pages / Reviewed by Stephen Leitch, school librarian
Suggested Reading Age 9+
Other titles