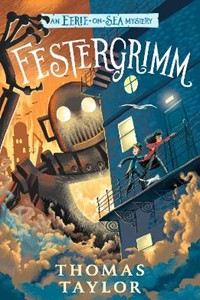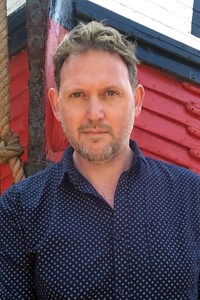 About Author
The latest book in the Eerie-on-Sea series by Thomas Taylor, Festergrimm, takes us to the dark underworld of the town. Thomas is an award-winning author-illustrator for children. His work includes picture books, graphic novels, and the previous novels in this series: Malamander, Gargantis, and Shadowghast.
He lives with his family on the south coast of England, where he can often be found combing the beach for ancient or lost things.
Interview
Festergrimm (Eerie-on-Sea 4)   (Walker Books)
September 2022
Read a Chapter from Festergrimm
In the latest Eerie-on-Sea adventure, Festergrimm, we return to the seaside town and find that Herbie and Violet's arch-enemy Sebastian Eels is back!   Look out for more Eerie-on-Sea secrets - a network of tunnels beneath the town, the extraordinary Festergrimm's Waxworks, and the legend of a lost robot with a heart . . .  Author Thomas Taylor tells us more about Herbie and Violet's latest adventures, and what he has planned for the next and final Eerie-on-Sea adventure!
Q&A with Thomas Taylor
1.   What inspired the first Eerie-on-Sea mystery, Malamander, and the evil author at the heart of the action in these stories?
I was first inspired to create Eerie-on-sea by my own experiences of living in a seaside town, and seeing how very different the town was when the winter closed in and the tourists were gone. Such places seem the perfect backdrop for mystery stories.
As for the sinister author, Sebastian Eels, I've always felt that there is scope for authors to turn bad, for their habit of controlling the worlds and characters they write in fiction to turn into a desire to control the real world and real people.  I would never do this though! Or would I…?

2.   You originally trained as an illustrator - how different is life as an author? What kinds of adventures do you enjoy writing?
Being an illustrator is quite different, because typically illustration follows someone else's writing. You have to wait, essentially, for something to illustrate. Being a writer yourself allows you to generate stories in both words and pictures. Of course, it is possible to tell stories in pictures alone - such as The Snowman by Raymond Briggs - but usually illustrators come along after the story has been created.
I love to write mystery, adventure stories with supernatural elements and magic. I like to write about friendship, puzzles, strange creatures and hotel breakfasts.

3.   Can you tell us a little about your new Eerie-on-Sea adventure, Festergrimm?
In Festergrimm we discover the long-forgotten waxworks museum of Eerie - actually more of a ghost train - which has waxwork displays showing the many legends of Eerie-on-Sea. They even have a model of the Malamander down there!  But Festergrimm's Eerie Waxworks was boarded up many years ago, and has a sinister legend of its own. So maybe it isn't such a good idea to let Sebastian Eels take the place over and reopen it for the tourists. But Eels promises that he has learned the error of his ways, and more and more people in town think he deserves a second chance.
Herbie and Vi are sure he is up to no good though, especially when they uncover the legend of a mad clockwork toymaker of centuries past, his lost daughter, Pandora, and the giant wind-up 'lost-and-founding' robot built to find her. Could it be that the robot still exists? And if so, why is Sebastian Eels so desperate to find it?

4.   So, what gave you the idea for a giant robot with a heart?
I've always been fascinated by clockwork machines, and the way that something manufactured can sometimes seem to be almost alive. Also, there is an ongoing clockwork theme in the Eerie-on-Sea books, connected to Herbie, which I wanted to explore. And then there are the visuals: just imagine seeing a giant robot of bronze plates and whirring cogs clanking down your street, sweeping its lamp-like eyes from side-to-side, trying to find you! It was wonderful to write about.

5.   How well do you plan your books before you write them - and do you have the whole series and Eerie-on-Sea's legends mapped out?
I only have sketchy plans of the books before I start writing them. I know what the story needs to do, and where it needs to go, but I don't have the path mapped out in too much detail. I like to let the story wend its way, and then come back and edit it.
For the whole series, I knew that the first and last books would complement each other, and that some mysteries introduce in Malamander would be dealt with in Book 5 - Mermedusa. The malamander is in both these books too. Then, for the books in between, I knew that one would be a mystery of the sea (Gargantis), another a mystery of the theatre and the pier (Shadowghast), and one a mystery of waxworks and clockwork (Festergrimm).

6.   Can you tell us about your main characters, Violet and Herbie? Why do they work together so well?
I love my main characters, as you can imagine. Herbie is a lot like me, while Violet is a lot like I would like to be. They are intended to complement each other, with each making up the shortcomings of the other. On his own, Herbie probably wouldn't have many adventures, while if Violet were alone she would probably have too many, and get into a proper pickle! Together, they are a great team, especially with Erwin on their side, and Clermit under Herbie's cap (and another unlikely companion they pick up in this latest adventure in tow).

7.   You do have some fabulous supporting characters - do you have a favourite?
I often get asked this, and I struggle to answer since I like them all. I often joke that I like all the characters, because all the ones I didn't like got left out of the books. Mrs Fossil is always fun to write, as is Lady Kraken. The character I like least is Mr Mollusc, who is deliberately not likeable at all. But, every scene with Mollusc in is a scene where is he interacting with Herbie, and those scenes are often the most fun to write of all.

8.   Which of the inventions in the stories - from the lift buttons and talking cat to Clermit the crab - would you like to have in your real life?
Oh, I would love a talking cat. I have a cat called Lupin, who looks like Erwin's twin (though he's black with yellow eyes). I sometimes wonder if Lupin might have a thing or two to say. So far, so much meow, but if he does decide to say something more, I'll come back and let Reading Zone readers know.
(Editor: Yes do, please!) 

9.   Given your background in illustration, do you like to doodle your characters, maps and settings as you write? Does illustrating help you write the stories?
I do often doodle the characters or things in the books. Sometimes these become the chapter heading illustrations. I have a very visual imagination, and try to write out the scenes according to images in my mind. People say my writing is very cinematic, and I think it's this that they are referring to.

10.   You've mentioned living in a seaside town. Do particular places inspire your setting and any of the shops and other places in Eerie-on-Sea?
There are five real seaside towns that inspired Eerie-on-Sea: Hastings Old Town is one, and Cromer is another, while the other three can be found name-checked as streets on the map of Eerie-on-Sea in the books.
Eastbourne Pier inspired the pier at Eerie, while the Eerie Book Dispensary is inspired by fabulous bookshops such as Shakespeare and Company in Paris (though without the Mermonkey, sadly). There is a house on the seafront in Bexhill-on-Sea which is covered in beachcombing finds, and this inspired Mrs Fossil's Flotsamporium.

11.   What do you have planned next for Herbie and Violet?
There is one more adventure planned for Herbie and Vi - Book 5 in the Eerie-on-Series: Mermedusa!
I don't say there will never be another Eerie-on-Sea book, but I would like to write something else next.

12.    What's been your favourite comment about the Eerie-on-Sea books from your readers?
The best things has to be seeing readers dressing up as characters from my books, especially on World Book Day. It's wonderful to see. A lot of girls seem to identify with Violet especially, and that makes me very happy.

13.    What do you enjoy doing when you're not writing?
Well, reading! And drawing. And walking, especially along the beach, where I beachcomb strange things; sea glass gems and actual dinosaur bones! Turning coffee and biscuits into books is my main thing though😊.
Author's Titles