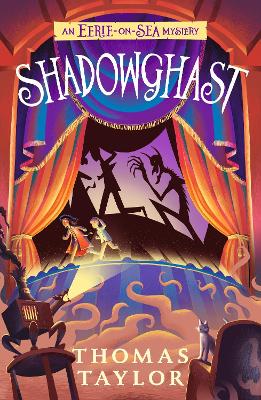 By Author / Illustrator
Thomas Taylor, Thomas Taylor
Genre
Supernatural
Age range(s)
7+
Publisher
Walker Books Ltd
ISBN
9781406386301
Format
Paperback / softback
Published
02-09-2021
Synopsis
A creepy magician with a shadowy act. A legend that goes back to the dawn of time. Eerie-on-Sea just got stranger. And darker...

A mysterious stage magician has set up in the theatre at the end of the pier, with an act so hypnotic and strange that Herbie Lemon and his friend Violet Parma suspect dark forces are at work. Meanwhile, folk are disappearing from Eerie-on-Sea, and no one knows why. There is an Eerie legend that goes back to the dawn of time, about a creature made of darkness that devours the shadows of the living. But could the Shadowghast really have returned?
See also: Malamander, Gargantis, Festergrimm
Reviews
Sue
Whilst other towns are celebrating Hallowe'en, the residents of Eerie-on-Sea enjoy Ghastly Night. Legend has it that people must light manglewick candles to prevent the Shadowghast from coming to steal their shadows. Every year, Dr. Thalassi and Mrs. Fossil retell the story behind the legend through a shadow puppet show; however, this year, a stage magician called Caliastra arrives with her entourage, planning to re-create the story themselves.
Lost and Founder at the Grand Nautilus Hotel, Herbert Lemon, is stunned when she claims to be his aunt and invites him to be her assistant. Violet Parma, his best friend, is less convinced and their friendship becomes strained, particularly when people start going missing including Violet's guardian, Jenny. But the two put aside all differences and work together to solve the mystery which is threatening Eerie-on-Sea.
This is the third story set in Eerie-on Sea and all the familiar faces are back for another brilliant adventure. Thomas Taylor has built a wonderfully detailed world and the reader drawn straight back in from the opening page. Wonderfully spooky and atmospheric, there is so much to enjoy in these inventive and compelling books!
Herbie is completely thrown by the arrival of Caliastra and the promise of a family, causing tension between him and Violet as he tries to balance finding out more about his past with helping Violet. Normally risk-averse and anxious, as the adventure builds Herbie shows a more impetuous side, coming up with a daring plan with the support of Erwin and Clermit. The story builds to a satisfyingly eerie climax with sinister 'baddies', leaving Eerie-on-Sea peaceful again- for now! Full of quirky humour, Shadowghast is an excellent adventure with so much to enjoy.
336 pages / Reviewed by Sue Wilsher
Suggested Reading Age 7+
Other titles