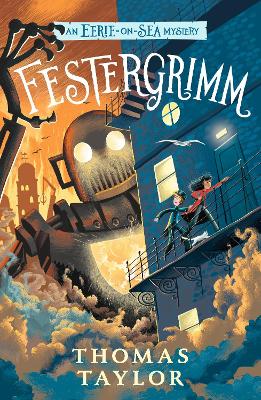 By Author / Illustrator
Thomas Taylor, George Ermos
Genre
Adventure
Age range(s)
9+
Publisher
Walker Books Ltd
ISBN
9781529502121
Format
Paperback / softback
Published
01-09-2022
Synopsis
When Herbie and Violet's arch-enemy Sebastian Eels turns up in Eerie-on-Sea, seemingly back from the dead, it can only spell bad news. The town may welcome his entrepreneurial scheme to resurrect Festergrimm's Waxworks, a dusty and defunct old gallery of spooky characters from Eerie legend, but Herbie and Violet are suspicious of his motives. And when they learn the legend of Ludo Festergrimm the clockmaker, creator of a vast mechanical robot that wrought havoc in the wrong hands, they KNOW they're on the right track. But how can they get the residents of Eerie-on-Sea to believe them?  
Find out more from author Thomas Taylor
See also: Malamander, Gargantis, Shadowghast.
Reviews
Stephen
Festergrimm is the latest in the Eerie on Sea mystery series and is sure to delight fans of previous books and those coming to explore the strange goings on at Eerie-On-Sea for the first time! It's a book of mystery, adventure and friendship; I highly recommend this book.
From the moment a seam train calls into Eerie-on-Sea leaving just one passenger, Herbert Lemon and Violet Parma know something bad is going to happen. For a shadow from their past has returned - Sebastian Eels, and he wants something back from Herbert. He also wants to re-open Festergrimm Waxworks. But what does he want with a long closed museum?
Herbert and Violet feel he is up to no good and that they are the only ones who can stop Eels. But first they need to find out what his plan is. This is easier said than done when you have a job to do at the Lost-and-Foundery in the Grand Nautilus Hotel and when Eels is as slippery as his namesake creature. When a severed finger is found in the hotel and Violet finds a book written by her father about a toymaker from the town's past, the mystery deepens and Violet and Herbert will need all their detective skills, courage and a paw from Erwin the cat to solve this mystery, for Eels plans could threaten the entire town!
What a great story and adventure from Thomas Taylor. I was gripped by this book from the start! I should say that I haven't read any of the others in the series but that didn't hinder my enjoyment. I thought the names of the characters were great fun often matching well to the characters. The setting for the story was very atmospheric and edgy, and Eerie-on-Sea felt very much like Scarborough out of season. The map in the book helped me follow the adventure through the streets of the town adding to the enjoyment. I thought the story excitement went up another level when the clockwork robot came back to life. The descriptions were excellent and I able to construct a fantastical image of the creation in my head, especially the way it uses three bells to call out the name Pandora. I also loved the Mermonkey in the Book Dispensary - a machine that selects a book that is best for you! Within the book are extracts from another book 'Pandora Lost', written by Violet's father, which gives details of past events in the town which really helps drive forward the investigations of Violet and Herbert, and I enjoyed the interplay between this and the present day adventure and story.
It is the adventurous exploits that Violet and Herbert get up to that make this book a real joy to read and I think children will especially enjoy these! They discover secrets levels in the hotel, mysterious tunnels under the town, face many escapes from Sebastian Eels, creep into closed buildings and ride a giant robot to name a few of their daring deeds. For me, not having read the earlier books didn't limit my enjoyment of this book. Some references are made to earlier adventures and while I wasn't sure about the history of the automata Clermit in relation to the back story, it didn't matter as I was pulled into the adventure anyway! While the book is written in first person (not my favoured format) it didn't stop me enjoying the story and I now want to read the others in the series.
320 pages / Reviewed by Stephen Leitch, school librarian
Suggested Reading Age 9+
Jacqueline
In Festergrimm, the fourth outing to Eerie-on-Sea, Herbie and Violet are back, pitted against a familiar villain, Sebastian Eels. This time, Eels has returned openly to Eerie and seems to have taken in all the adults by his apparent rehabilitation. Only Herbie and Violet can see that he is not in the least bit repentant, but as the story starts, they are not certain what he is up to.
It appears Eels now wants to reopen Festergrimm's Waxworks in the centre of town. Everyone thinks this would be a great idea as it would draw in the tourists. But it is clear to the children that Eels's motives are anything but beneficial for Eerie. Festergrimm's has a dark and sinister past with a sad story of a lost daughter and a monster who nearly destroyed the town, and it now appears Herbie and Violet are the only ones who might be able to stop history repeating itself.
A new story from Thomas Taylor always causes a ripple of excitement. They always have a dark side, with just enough thrills and chills for a young reader to enjoy, rather than be scared to death. This story draws together some of the threads from the previous books and then adds another layer of mystery and a new place and monster to contend with.
Sometimes an eagerly anticipated sequel can be a let-down, but Thomas Taylor never disappoints. The world of Eerie-on-Sea comes alive, and the map at the start adds to the sense of place. Even older children, who read Malamander a few years ago, will be happy to go back and read the next instalment. You feel as if you might really stumble upon Eerie and that all the strange goings-on are entirely likely in such a place. I know I will not be alone in thinking how glad I am that there is more to come in this series.
320 pages / Reviewed by Jacqueline Harris, teacher
Suggested Reading Age 9+
Sue
When evil villain, Sebastian Eels, returns to Eerie-on-Sea, Herbie and Vi are convinced that he has some sinister purpose. He claims he is going to re-open Festergrimm's Waxworks which will bring more tourists to the town, but as the children investigate, they discover another Eerie tale, full of family secrets and mechanical monsters, leading them into dark and dangerous places as they try to foil another of Eel's dastardly schemes.
This is my favourite trip to Eerie-on-Sea so far! Full of all the familiar faces fans of the series have come to know and love, Festergrimm is told with all the humour and charm of the previous books - and yet has a slightly different edge to it somehow. Threads from the previous stories are drawn together in this one and it feels as if we are tantalisingly close to discovering more about the mysterious past of both Herbert Lemon and Violet Parma. These two make an incredible pair - brave and impetuous Vi often taking the lead, but Herbie (although starting with the intention of doing NOPE-vember and saying 'nope' to everything remotely adventurous!) rising to every challenge in his determination to defeat Eels.
I love the way Thomas Taylor refers to stories like the Gollum of Prague and Frankenstein as the children learn of the legend of Festergrimm's metal giant, opening doors for children to discover new stories, should they wish to, as he builds on these to create his own.
There are some quite chilling and tense moments in the book, but these are well balanced by the strength of the children's friendship and the strong bonds they have with Jenny Hanniver, Dr Thalassi and Mrs Fossil as well as some more poignant events. The next book, 'Mermedusa', is, I believe, to be the fifth and final book in this series. Whilst I shall be sorry to make just one final visit to Eerie-on-Sea, Thomas Taylor has done such an excellent job of setting things up for an incredible conclusion to Herbie and Vi's adventures that I can't wait to read it!
320 Pages / Reviewed by Sue Wilsher, teacher 
Suggested Reading Age 9+
Other titles