Midnight Magic: Mirror Mischief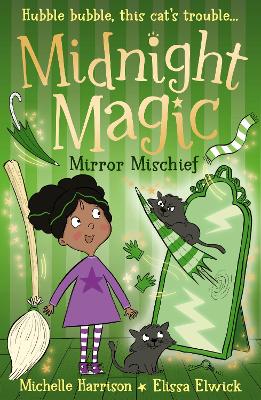 By Author / Illustrator
Michelle Harrison, illus Elissa Elwick
Genre
Early Readers & Young Fiction
Age range(s)
5+
Publisher
Little Tiger Press Group
ISBN
9781788951494
Format
Paperback / softback
Published
30-09-2021
Synopsis
Black cats born at midnight
Are different indeed
A mischievous, odd
And peculiar breed.
Who says that two magical cats are better than one?
When Trixie is at school one day, Midnight gets up to some mischief with the bathroom mirror and brings her reflection to life! The mirror-Midnight causes all sorts of chaos - safely on the other side of the glass. That is, until Twiggy the broomstick accidentally smashes the mirror, setting the destructive double free!  As Trixie, Dad and Nan get tangled up in the turmoil, can they work together and send the badly behaved magical cat back to where it came from before it's too late?  A bewitching new series from the best-selling author of A PINCH OF MAGIC, Michelle Harrison. Told in rhyming verse and illustrated in colour throughout, this is perfect for readers of SQUISHY MCFLUFF, HUBBLE BUBBLE and GOBBOLINO.
Reviews
Emma
Midnight Magic - Mirror Mischief is the second book in the series by Michelle Harrison and Elissa Elwick. Midnight, a black cat, was adopted by a young girl named Trixie, her dad, and her nan. Midnight was born with magical powers and it's those powers that create mayhem on the morning that Trixie is supposed to be getting ready for school.
Midnight creates a twin cat in the bathroom mirror - but whereas Midnight is mischievous, her twin is plain old naughty. Unfortunately, there is an accident with the mirror and the naughty cat escapes, causing complete pandemonium and carnage throughout Trixie's house - think of false teeth that can eat through the door and birds that fly out of the wallpaper. It is a race to capture the naughty cat, one which the whole family joins - but can they return the naughty cat to where it belongs?
Each portion of the text rhymes and this book would be wonderful to be read out loud in an LKS2 - 7+ class. For those confident readers, I'd still suggest the same age range as even though the text is easy to read, it's the rhyming that may prove a little bit tricky to master. Each book in the series is colour coded - this one is green throughout and the illustrations are fun and adorable.
96 pages / Reviewed by Emma Nelson, teacher
Suggested Reading Age 7+
Other titles