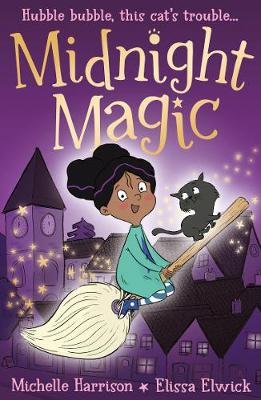 By Author / Illustrator
Michelle Harrison, illus Elissa Elwick
Genre
Early Readers & Young Fiction
Age range(s)
5+
Publisher
Little Tiger Press Group
ISBN
9781788951487
Format
Paperback / softback
Published
01-10-2020
Synopsis
Black cats born at midnight
Are different indeed
A mischievous, odd
And peculiar breed
In the middle of winter, three kittens are born in a barn. Two are ordinary, but the third, jet black and born on the stroke of midnight, is brimming with magic from whiskers to tail - even sparking life into a dusty old broomstick! While her siblings pounce at rats, Midnight perfects her flying skills on the broom, not noticing how her mother disapproves of her magical ways...  When Midnight finds herself abandoned, the little black kitten sets out to find a new home with only her loyal broom Twiggy at her side. The pair soon befriend a kind-hearted girl called Trixie. But how will Trixie's family react to Midnight's extraordinary powers and taste for mischief?
A bewitching new series from the best-selling author of A PINCH OF MAGIC, Michelle Harrison. Told in rhyming verse and illustrated in colour throughout, this is perfect for readers of SQUISHY MCFLUFF, HUBBLE BUBBLE and GOBBOLINO.  See also book 2 Mirror Mischief; book 3 Witch Trap
Reviews
Jenny
Midnight Magic is a lovely rhyming verse-style story for blossoming independent reader. It is beautifully styled; illustrated throughout in shades of fittingly mystical purple with a text that leaps and swirls across the pages mirroring the actions of the storyline.
Midnight Magic is the tale of a little black cat - the 3rd in a litter of kittens whose midnight birth gifts her magical powers. From her first meow, Midnight's breath brings a broom to life, delighting Midnight but sadly not her family. Looking for a new home, Midnight is found by cat-loving Trixie, and takes her mischievous powers and cheeky antics to a whole new family, having feline fun throughout.
This is a fast-paced and joyous story with a little note from the author about black cats often being the ones left behind and chosen last. Midnight is a delight and sure to charm and make readers long for more.
96 pages / Reviewed by Jennifer Caddick, teacher
Suggested Reading Age 5+
Emma
Midnight Magic is a heartwarming tale of a black kitten that was born at midnight with magical powers. Midnight is abandoned by her family as her powers are a little bit too much for them to deal with, so armed with her magical broom, Midnight flies into a small village. A young girl named Trixie adopts Midnight, along with her reluctant dad, her eccentric nan, and a broom-obsessed dog named Doodle.
Midnight creates lots of wonderful magic for Trixie - magic carpets, turning her house into a castle, and climbing roses that cover the castle. It's during Trixie and Midnight's adventures that the kitten's loveable nature wins over both nan and dad and she becomes one of the family.
The text is set out in small chunks - each rhyming which makes it an utter joy to read. The illustrations are whimsical and detailed and each page matches the cover - which is purple. The book would be a lovely class read and it is perfectly pitched at readers age 7+ / lower key stage two.
96 pages / Reviewed by Emma Nelson, teacher
Suggested Reading Age 7+
Bryony
Midnight Magic by Michelle Harrison and illustrated by Elissa Elwick is the first in a new series of young fiction. Written in rhyming verse, the text is accessible to younger readers in Key Stage One.

Midnight is a black cat who is born with magical powers. She is looking for a place to call her home, alongside her bewitched broom Twiggy, and meets Trixie. Trixie lives with her dad and grandmother who are not quite expecting magic. Adventure and chaos follow the family - but has Midnight found somewhere to live forever?

Midnight is a likeable and fun character who Trixie falls in love with. The rhyming verse and short chapters make this book a great first chapter book while the vocabulary is superb and will prompt discussion from curious children. A fun and well-paced plot also makes this book good for newly fluent and independent readers.

The book is visual and the purple and black theme helps the feeling of magic. The illustrations are fun and bring the words to life. The facial expressions on the characters are particularly delightful.

A great text in the young fiction category. I am sure Harrison will find many new young fans with Midnight and her adventures.

96 pages / Reviewed by Bryony Davies, teacher
Suggested Reading Age 7+
Other titles