Midnight Magic: Witch Trap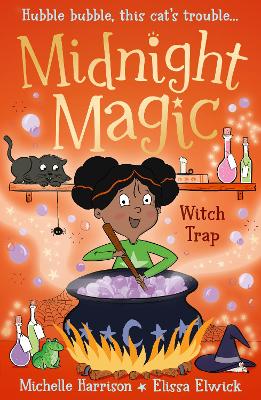 By Author / Illustrator
Michelle Harrison, illus Elissa Elwick
Genre
Early Readers & Young Fiction
Age range(s)
5+
Publisher
Little Tiger Press Group
ISBN
9781788951500
Format
Paperback / softback
Published
13-10-2022
Synopsis
Black cats born at midnight
Are magic, it's true!
Just waiting to have
An adventure with you.
Trixie and Midnight are playing outside when they have a run in with a witch, who seems particularly interested in the cat's magic powers. The very next morning, Trixie wakes to find that Midnight has been catnapped!  Trixie, Nan and Dad set off to the rescue. Meanwhile, Midnight has a plan of her own. But it's going to take a more than a sprinkle of magic to escape the witch's trap...
A bewitching new series from the best-selling author of A PINCH OF MAGIC, Michelle Harrison. Told in rhyming verse and with colour illustrations from Elissa Elwick throughout, this is perfect for readers of SQUISHY MCFLUFF, HUBBLE BUBBLE and GOBBOLINO. See also book 1 Midnight Magic, book 2 Mirror Mischief
Enjoy a reading from author Michelle Harrison
Reviews
Jenny
The third book in the Midnight Magic series following the adventures of black cat Midnight and owner Trixie. Lovely to read if you are already a fan and want more magic mayhem but also ideal to pick up as a new reader and become acquainted with Midnight's tricks and chaos. So far, in books 1 and 2 , there has been the black cat and the broomstick - but no witch. Until now! In book 3, Witch Trap, there is someone sneakily watching Midnight's magic and wants the kitten's powers all to herself. When Midnight goes missing, Trixie suspects magic is being misused and sets off to track down and save her beloved cat. We know Midnight all too well though, and keeping her captive and co operative was never going to be on the cards!
The Midnight Magic books are just such fun to look at and read. This one is a glossy Halloween 'pumpkin orange' shade throughout with bold illustrations by Elissa Elwick that just burst out of the pages . The rhyming verses again flow lyrically along the pages and the text is a pleasure to read aloud. Michelle Harrison obviously has a huge affection for her characters and passes this on to her readers with such light, sparky stories. I think this is a series that will constantly be flying off library shelves at school!
96 pages / Reviewed by Jennifer Caddick, teacher
Suggested Reading Age 5+
Emma
Midnight Magic - Witch Trap is the third adventurous tale of Midnight and her human friend, Trixie. It is October half term and Trixie and Midnight are playing in the garden - building a den. Nan is planting bulbs and dad is sweeping up the leaves.
Midnight is a black cat who has the ability to create magic - and after a morning of playing spies and pirates, Midnight creates a leaf dragon on which they ride through the clouds. However, it's this leaf dragon that attracts the attention of a witch. The witch tries to buy Midnight, but when she is turned down by Trixie, she steals her beloved cat. Trixie and her family set out to find Midnight and in turn, they uncover why the witch has stolen midnight.
This is a lovely tale of friendship that concludes with a happy ending. Each of the books in the series has rhyming text which is perfect for those readers who are confident to read alone, or it would be great for a class read - where the teacher rhymes out each section of text, or for individual reading as the text is quite easy to read - I'd recommend it for LKS2. I also like how each book is colour coded to match the front cover - these pages are orange.
96 pages / Reviewed by Emma Nelson, teacher
Suggested Reading Age 7+
Other titles