Milo's Monster: A Big Bright Feelings Book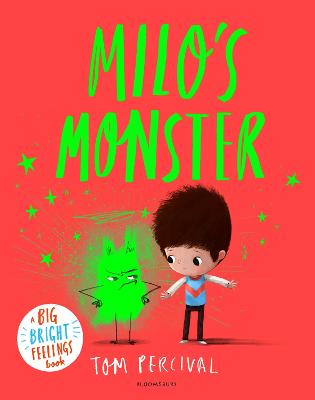 By Author / Illustrator
Tom Percival
Genre
Personal Growth
Age range(s)
5+
Publisher
Bloomsbury Publishing PLC
ISBN
9781526613011
Format
Paperback / softback
Published
07-07-2022
Synopsis
Milo loves spending time with his best friend, Jay. But when a new girl called Suzi moves in next door, Milo starts to feel left out. The jealous feeling gets stronger and stronger - until suddenly, a GREEN-EYED MONSTER pops up beside him! Soon, the monster is poisoning Milo's thoughts. It won't leave him alone! Can Milo find a way to free himself from the monster and repair his friendship?  Warm and uplifting, Milo's Monster is an inspiring story about dealing with feelings of jealousy. It's the ideal starting point for helping children to build strong friendships and say goodbye to jealous feelings.
Tom Percival's Big Bright Feelings series is the perfect springboard for talking about mental and emotional health, positive self-image, building self-confidence and managing feelings. Every child's bookshelf should contain his books.
Reviews
Elen
Like many other parents and teachers, I was happy to see there was another Big Bright Feelings book from Tom Percival; he seems to capture children's emotions so clearly and to find stories that will engage young children and support them in navigating those feelings.
In Milo's Monster, the author explores jealousy and what happens when Milo feels that his best friend, Jay, is being taken away by new girl, Suzi. Milo gets angrier as he feels increasingly left out of their games until eventually, a green-eyed monster appears, making Milo feel even more angry and jealous to the point where he stops playing with his old friends.  Eventually, Milo realises that his actions are making them as sad as he feels and he finds a way to say sorry, and the children become friends once more.
So many children will at some point experience the feeling of being 'left out' and recognise it in this story. Reading Milo's Monster will help them understand those feelings and give them a way to manage them; it will help them to see jealousy as an emotion they can control, and also how to extract themselves from a situation by saying sorry. 
Let's not forget the illustrations in the picture book, either; like his other Big Bright Feelings books, the illustrations have been created by Percival and are integral in helping explore and explain the emotions the children face and the colours and backgrounds through the story reflect what he is feeling.
A lovely picture book to add to your Big Bright Feelings collection!
Picture Book / Reviewed by Elen
Suggested Reading Age 5+
Other titles