Mini and Hardly and the Big Adventure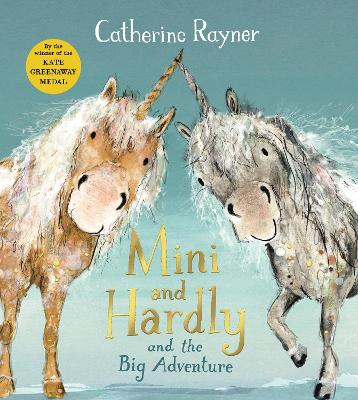 By Author / Illustrator
Catherine Rayner
Genre
Friends and family
Age range(s)
3+
Publisher
Pan Macmillan
ISBN
9781509804221
Format
Hardback
Published
19-08-2021
Synopsis
Mini is small, and Hardly is smaller - and neither of them are happy about it in this gorgeously illustrated, heart-warming picture book about unicorns from Kate Greenaway Medal-winning Catherine Rayner.

Mini and Hardly are fed up of being small. Being grown-up would be so much better! They could eat what they want, stay up all night, and go on adventures. So . . . why wait? But it's not long before the two little unicorns find themselves on an adventure a little bigger than they'd bargained for. Perhaps being small isn't so bad - after all, it makes you perfect for the BIGGEST cuddles.
Reviews
Joanna
Mini and Hardly and the Big Adventure is a lovely compassionate story about friendship and growing up. The story uses two very loveable unicorns who desire to grow up, but soon learn that it's actually pretty great to be young and carefree.
Mini and Hardly are two very sweet little unicorns who are fed up of being so small. They reflect on all the things they could do if they were more grown up - gallop faster, eat whatever they wanted and neigh really, really loudly. They decide that they ARE grown up enough for a 'big adventure', so off they set to have one.
To start with, their big adventure is great fun and Mini and Hardly feel very grown up and important. But, at the day goes on, the two little unicorns become aware of their surroundings - it is getting dark and the waves are getting big - and Mini and Hardly become afraid. Then, to the rescue comes a much more grown up unicorn who instantly makes the unicorns feel safe, leading the young ones home. Mini and Hardly reflect 'it's actually quite nice feeling little' and they bounce around enjoying the freedom of being small, realising that 'being small makes you perfect for the biggest of cuddles'.
The illustrations in this picture book are simple but really beautiful. Hand drawn, these unicorns really come to life and children can easily follow the story through the facial expressions of the unicorns and also the backgrounds which reflect the mood of each page. It is easy to see when the unicorns are happy (sunshine), when they feel scared (stormy seas) and when the Mummy unicorn comes to the rescue (rainbow). The very natural landscapes are the perfect background for telling this lovely story and you will instantly fall in love with the two gorgeous unicorns.
This is a very sweet story aimed at teaching children that it's actually pretty great being small. I can imagine parents will enjoy snuggling up to their children on the last page and reading the line about cuddles. Parents also will enjoy this story as it teaches them to remember how fast their children grow up and how soon they will be off for their own adventures, but for now, enjoy the little cuddles whilst you still can.
Picture book / Reviewed by Joanne Hewish, teacher
Suggested Reading Age 3+
Other titles