Mort the Meek and the Perilous Prophecy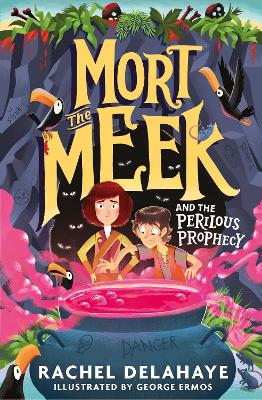 By Author / Illustrator
Rachel Delahaye, illus George Ermos
Genre
Funny Stories
Age range(s)
9+
Publisher
Little Tiger Press Group
ISBN
9781788955706
Format
Paperback / softback
Published
05-01-2023
Synopsis
When Brutalia's ever-suspicious Queen is forewarned of a new enemy - a nearby island called Bonrock - Mort is worried. As a pacifist, he's a firm believer that strangers are just friends they haven't met yet. Then he and his best friend and fellow pacifist Weed are sent to the island to investigate.  But Bonrock is a warm and welcoming place, with luscious landscapes and tropical waters. Mort's relieved - there's no need to fight! Until they stumble upon something terrifying... Perhaps there really is trouble in paradise?

The third book in a wickedly funny series about an aspiring pacifist in a brutal kingdom, perfect for fans of the HOW TO TRAIN YOUR DRAGON series, FROSTHEART and THE NOTHING TO SEE HERE HOTEL. 

Praise for MORT THE MEEK AND THE RAVENS' REVENGE:  "Crammed with wisecracking corvids and outrageous wordplay, it's engagingly light-hearted, Pratchettesque comic fantasy" - The Guardian. "Delahaye's writing is clever and hilarious and bursting with creativity" - Rashmi Sirdeshpande, author of HOW TO CHANGE THE WORLD.  "A rip-roaringly funny read from the queen of comedy" - Linda C, Educator
Reviews
Sue
When the Queen of Brutalia declares that everyone must be alert to the presence of strangers, fear falls over the land 'like an itchy blanket'. As a pacifist, Mort is more inclined to believe that strangers might be friends than enemies and when he and Weed meet Genia and Vita from the tropical island of Bonrock, it seems he is right. Sent on a mission to Bonrock to learn more, the boys find a warm welcome and a beautiful location…but is everything as it seems?
Rachel Delahaye's Day of the Whale is one of my favourite books and the contrast in style between that and the Mort the Meek series shows what a talented and versatile author she is. And yet, amid all the humour and horseplay, punning and pacifism of the Mort books, some fairly serious points are being made.
Children love these books for their fiendish humour and deliciously dark happenings. Each chapter begins with Ratty and Ratto the rats sharing a joke (with a gust appearance from Larry and Bruce the lobsters), relishing in the word play and punning which is a key feature of each book. The use of homophones and grammar in a playful, entertaining way is perfect for using to illustrate spelling and grammar lessons, making it relevant and lighthearted. There are points at which the characters help to clarify the words which Mort and Weed are sure have been made up and help to correct their grammar, helping the reader to understand along the way. It's beautifully done- and skilfully!
In Mort the Meek and the Perilous Prophecy, as the boys explore a different world, Mort continues to hold onto his pacifist principles and Weed develops a serious crush whilst events thunder to their exciting conclusion. Any of the books in this series would make an excellent read aloud with plenty to discuss and enjoy with a class, for a fabulous bedtime story or as a most enjoyable independent read. George Ermos's illustrations are the perfect complement to the story.
224 pages / Reviewed by Sue, teacher
Suggested Reading Age 9+
Other titles