Mort the Meek and the Ravens' Revenge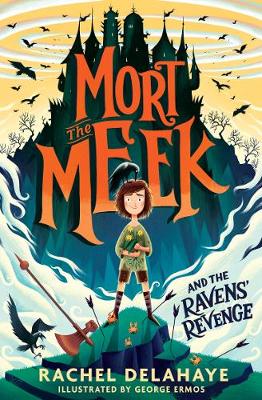 By Author / Illustrator
Rachel Delahaye, illus George Ermos
Genre
Funny Stories
Age range(s)
7+
Publisher
Little Tiger Press Group
ISBN
9781788953146
Format
Paperback / softback
Published
04-03-2021
Synopsis
The first in a wickedly funny new series about an aspiring pacifist in a brutal kingdom!  On Brutalia, violence is a way of life. Ravenous ravens circle overhead, monstrous grot bears cause chaos and the streets are bulging with brawls. But Mort isn't like the other islanders - he's determined to live peacefully. His struggle is made even tougher when the cruel queen appoints Mort as Royal Executioner. No one has challenged the royals and lived to tell the tale. Can Mort keep his head and outwit the queen?
Perfect for fans of the HOW TO TRAIN YOUR DRAGON series, FROSTHEART and THE NOTHING TO SEE HERE HOTEL.
Reviews
George

- Age 10
Mort the Meek is my new favourite book. This is because it grabbed my attention from beginning to end. It is full of dark humour, like when he has to kill his friend but he can't because 's a pacifist. I rate this book 5/5 and would recommend it to humour lovers and thrill seekers. I have never read anything like this.
Suggested Reading Age 9+
Linda
A rip-roaringly funny read from the queen of comedy, Rachel Delahaye. Mort the Meek and the Ravens' Revenge is a totally bizarre yet hilarious read which will be enjoyed by children of all ages.

Mort is a pacifist living on Brutalia, an island where violence is celebrated and only the toughest survive. An unfortunate turn of events sees him being appointed as Royal Executioner. Will it really be survival of the fiercest or can this peace-loving protagonist find a way to cheat death?

I loved the brilliantly bonkers narrative style of this book - each chapter begins with talking ravens full of very bad puns and the author speaks directly to the reader in a very knowing, tongue-in-cheek way throughout the story. It's a refreshing take at the comedy genre and has almost a Dahl-esque quality to it. It's a silly, laugh-out-loud book which doesn't take itself too seriously.

224 pages / Ages 8+ / Reviewed by Linda Canning, teacher
Suggested Reading Age 7+
Saoirse

- Age 9
A pacifist and he had to kill his friend! I love Mort the Meek. I would rate it 5/5. I really liked it because he was a pacifist and he had to kill his friend! It was a side-splittingly funny story. I would recommend it to comedy lovers and anyone who needs cheering up!
Suggested Reading Age 9+
Ailbhe

- Age 9
About a boy who has to kill his friend. I love Mort the Meek because when there is a new chapter, I like when the ravens speak because they are really funny and greedy! I have never read anything like it and I think other children will love it. I would rate it 5/5.
Suggested Reading Age 9+
Kyron

- Age 10
I rate Mort the Meek 5 stars because Mort liked peace but he had to be a brute and chop his friend's head off! That was quite gruesome to me but I loved it! I would recommend it to adventurous people.
Suggested Reading Age 9+
Other titles