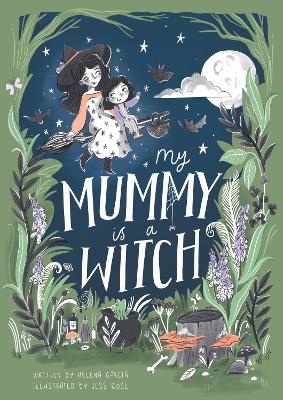 By Author / Illustrator
Helena Garcia, Jess Rose
Genre
Family & Home
Age range(s)
3+
Publisher
Owlet Press
ISBN
9781913339463
Format
Hardback
Published
27-04-2023
Synopsis
The magical moments between a mother and her daughter as some of the most treasured memories you'll make. But what if your mummy happens to be a witch? This wonderfully witchy story is a cauldron of utterly charming ingredients told through the eyes of a little witchling. From dandelion ice-scream to pumpkin perfume and cauldron baths, and best of all a mummy who can wake up the sun and make the stars shine.
Reviews
Sharon
Use your imagination and meet a witchy parent and child whose closeness is obvious. Such a gentle bedtime story for the youngest of children with a more subtle level for those older children who can spot the etymological meaning of witch and being wise. A charming tale for all ages - possibly linked to Mother's Day, but also Halloween.
What the children said:  When my teacher gave me My Mummy is a Witch to review I was a bit confused because it isn't Halloween yet. Even after reading it I wasn't sure. It was only when I got to the last page with the dandelion ice scream recipe that I noticed the origin of the word witch (Wicca) and its meaning. That's when I got it - a book about the wisest people around! Mums. Perfect timing for Mother's Day. H aged 9. I love witches and this poetry book made me smile. I liked the idea of having a witch for a mum. There should be more witchy mums in books. L aged 7.
Picture book / Reviewed by Sharon Porter, teacher
Suggested Reading Age 5+
Other titles