National Trust: Big Outdoors for Little Explorers: Woods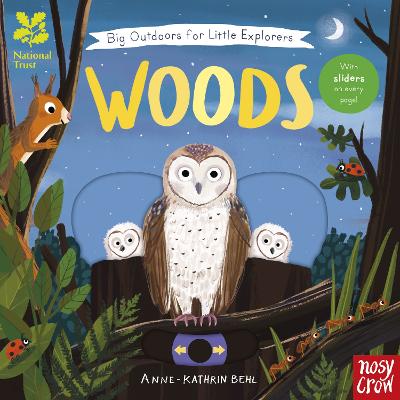 By Author / Illustrator
Anne-Kathrin Behl
Genre
Animals
Publisher
Nosy Crow Ltd
ISBN
9781839941801
Format
Board book
Published
04-08-2022
Synopsis
Explore the big outdoors in these action-packed animal board books with sliders on every page.
Published in collaboration with the National Trust, this series of board books will inspire a love of nature in even the littlest of animal lovers. With vibrant artwork printed on white board, robust easy-to-use mechanisms for tiny hands and a rhyming text with friendly animal facts, these are the perfect books to captivate curious little explorers time and time again.
In this first woodland book, there are shy deer to find hiding in the trees, a noisy woodpecker pecking on a tree trunk, moles digging holes and many more woodland creatures to bring to life with the moving parts.
Other titles in the series include: Countryside, Seaside and River
Reviews
Jessica
Is your little animal lover ready to discover the big outdoors as they explore their first woodland? Big Outdoors for Little Explorers: Woods is another fantastic non-fiction board book brought to us by Nosy Crow, in partnership with the National Trust as part of the Big Outdoors for Little Explorers series.
In this book, we push, pull and slide our way through the woods as we meet some (rather cute!) animals. I took just one look at the fluffy owls on the front cover and I was immediately reminded of the hugely successful book, Owl Babies, and I was sold! There is so much depth and story to the gorgeous illustrations. We see squirrels climbing trees, deer hiding between the tree trunks and moles peeking from their burrows. We slide the tabs to see woodpeckers doing what they do best, insects flying and rabbits jumping through the grass. There is so much to take in… it really deserves a second, third and fourth look through!
As with the other books in this series, the children learn interesting, easy to remember, facts on each page. The names of the creatures are memorably written in bold font too. We are also encouraged to be active readers as we are asked who we might find in the woods and told to 'take a peek'. It is really great to have such an engaging non-fiction series available for our youngest children to enjoy and learn from. Warning: You may end up investing in the whole series!
Board book / Reviewed by Jessica Bunney
Suggested Reading Age 0+
Other titles