National Trust: Sunday Funday: A Nature Activity for Every Weekend of the Year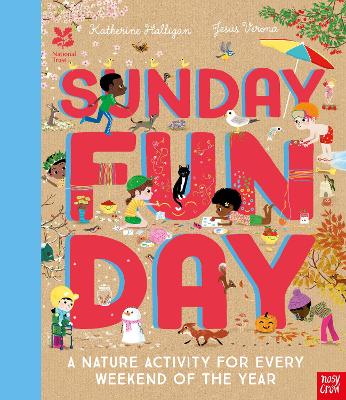 By Author / Illustrator
Katherine Halligan, Jesus Verona
Genre
Non Fiction
Age range(s)
7+
Publisher
Nosy Crow Ltd
ISBN
9781788009058
Format
Hardback
Published
07-10-2021
Synopsis
A gorgeous gift book filled with 52 seasonal activities that families and friends can enjoy together, published in collaboration with the National Trust.Make every Sunday a fun day with an inspirational nature activity for every weekend of the year! From green-fingered gardening projects and outdoor obstacle courses to creative crafts and warming winter recipes, there is something for everyone, whatever the weather. Packed with super seasonal activities for children (and adults!) of all ages, this book will make every family weekend a fantastic one.Presented in a beautiful hardback format with cloth binding and featuring stunning full colour illustrations from Jesus Verona on every page, this is a book to be treasured for years to come.
Reviews
Joanna
There are often days when you run out of ideas for something to do, especially with the British weather. But now the National Trust has joined with Nosy Crow to publish a fantastic book, jam-packed full of fun and creative things to do all year round in nature as a family.
Sunday Fun Day is a fantastic book crammed with a variety of activities such as Flapjack making, Bird feeders, making your own wrapping paper, leaf boats and so much more. There are so many different activities, there will be something to interest everyone. What I particularly enjoy about this book is how it is designed into seasons, so the activity you are reading is suitable for the time of year and any celebrations that fall within the season - Halloween, Christmas, Easter.
Not only are the activities thoughtful and engaging, but they are also simple and very easy to create or do as a family using the most basic materials that everyone has in the home or found on a nature walk. Accompanying each activity is interesting information to read with your child and learn and discover something about the activity.
The designers of this fantastic book have obviously carefully considered how to make each page engaging and exciting for children. The illustrations are colourful and bright demonstrating the steps of the activity, cartoon children completing the activity, or wildlife enjoying what you have created. The book is clearly family orientated as the pages all show all types of families enjoying the activities together, smiling and enjoying being together. My children have absolutely loved looking through the book and each picking an activity to do each weekend and planning ahead for activities to do in the future such as when the pine cones fall. We have already made bird feeders with peanut butter, made boats from leaves when on a walk, planted a variety of seeds to make a 'secret garden'.
We have had a lot of fun together using this book as my children take ownership of the activity, reading it carefully and instructing us all on what to do. My husband - a teacher of Year 4 - has been using this book to send out an activity from a page to his class on a Sunday to complete voluntarily. His class has then been bringing into school the completed activity or sending in pictures of them out in nature with their families enjoying the activity.
This book is a wonderful celebration of all the exciting things you can do in nature both with your friends and your family all year long. It is an excellent addition to any bookshelf.
112 pages / Reviewed by Joanna Hewish, teacher
Suggested Reading Age 7+
Other titles