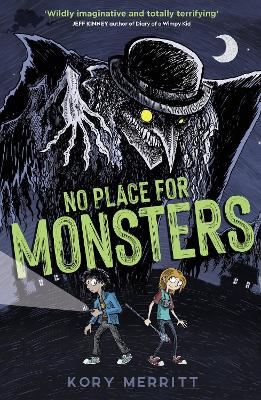 By Author / Illustrator
Kory Merritt
Genre
Horror
Age range(s)
9+
Publisher
Chicken House Ltd
ISBN
9781913696085
Format
Paperback / softback
Published
01-09-2022
Synopsis
Nothing is out of place in the quiet suburban town of Cowslip Grove. But kids have been going missing - and only Levi and Kat notice. It's up to them to save the missing kids before a hidden evil swallows the town whole ... A spellbinding, original and lavishly illustrated horror story for middle-grade readers Half-written, half-graphic novel, and all spooky mystery! Two unlikely friends face down their worst fears in order to stop their small town - and themselves - from disappearing
A deliciously spooky novel packed with illustrations - Stranger Things for younger readers! 'Wildly imaginative and totally terrifying', Jeff Kinney (Diary of a Wimpy Kid).  'A haunted-house version of Charlie and the Chocolate Factory', Brian Selznick, The Invention of Hugo Cabret.  
Reviews
Jenny
In the sleepy, quiet town of Cowslip Grove , nothing out of the ordinary ever seems to happen . Or perhaps unusual and terrifying incidents happen every night... it's just that no one remembers them the next day… The dark truth is that children are disappearing from their beds at night - their entire existences removed, leaving no sight, sound or memory of them behind. So, if no one remembers them to know they are missing, how can they ever be found again?
Levi Galante is just beginning to try and settle into his new life in Cowslip Grove. He likes order and quiet and does not want to be paired up in school with the bold, loud, seemingly troublesome (and very imaginative) Kat Bombard. This duo of polar opposites, however, are the only hope for those children taken and erased from the town's memory, as only they can remember the lost ones. When Levi's own younger sister Twila vanishes into thin air, they must act on all their suspicions and fears to discover who (or what) has taken them. "We know it comes at night. And it comes quietly."
No Place for Monsters is a perfectly-pitched sinister, chilling and gripping story with a deliciously dark, nightmarish feel to it. It is highly illustrated throughout and uses a brilliant pairing of narrative text and graphic novel illustrations and storylines that really engage the reader and make you feel completely like you have entered a twisted, un- nerving and shadowy world. This is a journey that will lead the reader below and behind the ordered gardens and daily ice cream rounds from the friendly Slynderfell ice cream man. The monsters created increasingly creep closer throughout the pages, cleverly creating raising the tension until Levi and Kat are faced with a whole tribe of fearsome frights - the boogeymen, Heckbender and the master of them all, the Boojum. The illustrations are outstanding and help to tell the story so well - putting those fiendish monsters right into the reader's mind so visually. There is, of course, a ghoulish humour to many of the beasts within the book to ensure there is a sense of fun with the fright.
This book captures the imagination from start to finish - both the first and final chapters are bold , startling and memorable . A must read for those MG readers who want a slightly more advanced, heart-thumping level of fear in their horror stories as they venture into this nerve-jangling genre.
384 pages / Reviewed by Jennifer Caddick, teacher
Suggested Reading Age 9+
Other titles