October, October (paperback)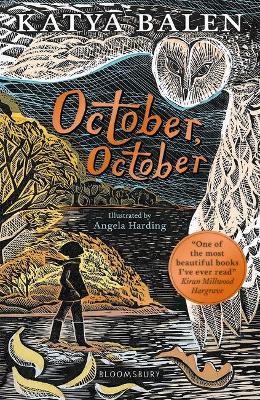 By Author / Illustrator
Katya Balen, Angela Harding
Genre
Family & Home
Age range(s)
9+
Publisher
Bloomsbury Publishing PLC
ISBN
9781526601933
Format
Paperback / softback
Published
30-09-2021
Synopsis
A classic in the making for anyone who ever longed to be WILD.
October and her dad live in the woods. They know the trees and the rocks and the lake and stars like best friends. They live in the woods and they are wild. And that's the way it is.  Until the year October turns eleven. That's the year October rescues a baby owl. It's the year Dad falls out of the biggest tree in their woods. The year the woman who calls herself October's mother comes back. The year everything changes.
Written in Katya Balen's heart-stoppingly beautiful style, this book is a feast for the senses, filled with the woodsmoke smell of crisp autumn mornings and the sound of wellies squelching in river mud. And, as October fights to find the space to be wild in the whirling chaos of the world beyond the woods, it is also a feast for the soul.
Reviews
Jo
October, October is an emotionally charged, wholly engaging story that will leave the reader in need of a tissue! It is a compelling tale of relationships, nature love and loss. It is written absolutely beautifully from the point of view of October, an 11-year-old girl who lives in the woods with her father. In October's eyes, she has the perfect life. She has a father she adores and a lifestyle that gives her all she needs. They are wild and that's the way it is. Until the day when October's world literally comes crashing down.

Following an accident in the woods, October's father can no longer care for her and she has to go and live in London with the 'woman who is my mother'. Alien sights, sounds and emotions flood October's senses and we feel her confusion through the carefully crafted narrative, the long, breathless sentences of jumbled thoughts. It is impossible not to feel October's anguish. Her whole life is in turmoil.

Whilst Dad's body is broken, October's heart is shattered and we sense her anger and confusion at the lack of control that she now experiences. A powerful and beautiful parallel runs throughout the story; October has cared for an owl since discovering it abandoned in the woods. She desperately wants to keep the owl, Stig, to confine it, and she can't bear to let him fly free. October's heart is tugged and bruised by her love for her owl and her refusal to let her go. And all the while, she is in a London house, desperate to be wild, to return to the forest that runs through her veins. What a beautiful and thought-provoking juxtaposition.

As October slowly adjusts to her new life in the city, we realise how little of the world she has experienced; her first taste of a Mars Bar, the cacophony of a school playground, the stiff itchiness of a school jumper are all exquisitely described. It is impossible not to empathise with October. Even the layout of words upon a page has been designed so that you read them in the same heart-stopping, breathless way that they were said or thought by her.  We delight as October unearths treasures from the mud and marvel at the stories that she weaves, and we want so desperately for her to find peace and happiness.

By the last chapter of this gorgeous book, I had tears in my eyes. The final scene with Stig is jam-packed with emotion. This is a story about the power of story. It is about being wild and being tamed. It is about growing and learning and most of all it is about love.

A truly powerful, delicious book that would be relished by adults just as much as children from Years 5 or 6 and above. Gorgeous.

304 pages / Reviewed by Jo Clarke, teacher
Suggested Reading Age 9+
Other titles