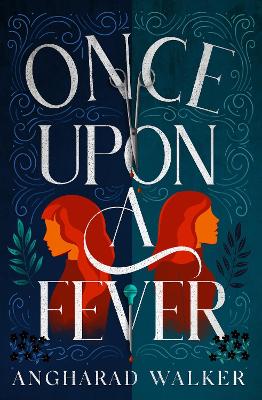 By Author / Illustrator
Angharad Walker
Genre
Fantasy
Age range(s)
11+
Publisher
Chicken House Ltd
ISBN
9781912626984
Format
Paperback / softback
Published
07-07-2022
Synopsis
Since the world fell sick with fantastical illnesses, sisters Payton and Ani have grown up in the hospital of King Jude's. Payton wants to be a methic like her father, working on a cure for her mother's sleeping fever. Ani, however, thinks the remedy for all illness might be found in the green wilderness beyond the hospital walls. When Ani stumbles upon an imprisoned boy who turns everything he touches to gold, her world is turned upside-down. The girls find themselves outside the hospital for the first time, a dark mystery unravelling...
The first teen novel from Angharad Walker, author of critically-acclaimed The Ash House. Angharad's writing evokes the clever, unique world-building and philosophical themes of Pullman's His Dark Materials while remaining startlingly original The story follows two sisters in a London-inspired city full of fantastical illness and sprawling, gothic hospitals where dark secrets linger beneath the surface.
Reviews
Louise
In an alternative, fantasy world where emotions themselves are sought to be cured for fear of the illnesses they cause, Once Upon A Fever takes its young readers on a magical journey of self-discovery. Once Upon a Fever beautifully - and metaphorically - tackles the subject of emotions, considering their potential for damage and the lengths needed to suppress them, and what happens when we do allow ourselves to feel.
Following an imagined event, 'the Turn', emotions begin to cause devastating illnesses in those who experience them. It's up to our protagonists, sisters Ani and Payton, to discover a cure for their own mother's water fever - and with it, they embark upon individual adventures of epic proportions. Friendship, the bonds of family and self-discovery, within a beautifully crafted world.  The novel has twists, turns and nail-biting moments, without considering what it might be trying to tell its young readers. Which is... well, to perhaps become more self-aware, and to question our own strength when it comes to how we feel, and how we handle those emotions.
I was already in love with the novel's gorgeous storytelling, before I'd begun to understand the impact of its words on the young people who delve into its pages. I very much enjoyed the relationship between Ani and Payton, two sisters so different and yet so connected by a common goal. They represent a battle between science and nature, illustrating the heart of the novel in a relatable way – 'impulsive' Ani ventures into a wilderness in search of natural remedies, while 'sensible' Payton turns to respected methics and treatments for her answers.
There are plenty of twists and turns, although not everything is resolved by the end of the novel. Once Upon a Fever is left open for a sequel, or for the vast forays of imagination that I know young readers will employ. Suitable for my secondary school students aged eleven years and over, Once Upon a Fever uses its fantastical world and concepts to tackle real-world feelings: I think – I know – that it will inspire some really wonderful moments of self-realisation and wonder.
323 pages / Reviewed by Louise Baker, school librarian
Suggested Reading Age 11+
Jacqueline
This is a parallel London, where The Turn has meant feelings create disease. Ani and Payton, two very different sisters, live in St Jude's hospital where their father is a methic, curing people of the diseases. The whole family are in a quest to find a cure for the illness that afflicts their mother and keeps her in a deep sleep, entombed in water. Paton wants to be a methic when she grows up, but Ani is wild and looking for an alternative path. Then Ani finds a boy down in the cellars and discovers everything is not as it seems. Both girls leave St Jude's and take very different paths to discover the truth that lies at the heart of the cures.
Angharad Walker's debut novel The Ash House, was a dark, gothic tale that did not wrap everything up neatly and haunted the reader long after it was finished.  Once Upon a Fever is similar and has some of the same themes of illness and searching for a cure. It is also quite dark and scary, with echoes of Pullman's His Dark Materials and startling originality as well. Its timing, coming after the Pandemic (though it was begun before then), seems to have a greater impact for the reader; the fear of getting ill lingers still in society.
I love the way not everything is explained and, as with the Ash House, there are many things the reader never finds out, but which can be imagined. This is definitely for a slightly older reader as it is very chilling in places. I think it would work well for ages 11+ as a thought-provoking read and a very exciting story. 
323 Pages / Reviewed by Jacqueline Harris
Suggested Reading Age 11+
Other titles