Once Upon Our Planet: Rewild bedtime with 12 stories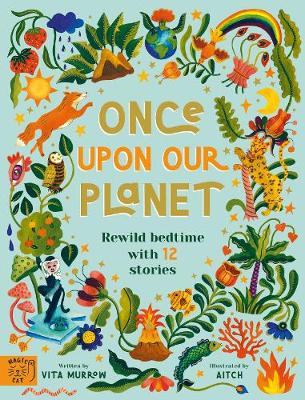 By Author / Illustrator
Vita Murrow, Aitch
Genre
Environment
Age range(s)
7+
Publisher
Magic Cat Publishing
ISBN
9781913520083
Format
Hardback
Published
08-07-2021
Synopsis
From the internationally best-selling storyteller, Vita Murrow, this illustrated treasury brings together a dozen original stories set in some of the last true wildernesses in the world, from the Arctic to the Amazon.  Weaving established mythology with original storytelling, these epic earth tales tell of courage, friendship, and persistence, and explore our finely balanced relationship with Planet Earth.

Find out more in this Q&A and Video from the author, Vita Murrow
Reviews
Kristen
Once Upon Our Planet is a collection of twelve myths set in various locations around the world, from mountains to forests and coral reefs. They incorporate existing myth ideas and whilst parts are familiar, they feel refreshingly new at the same time. Each story is only a few pages long, making them ideal for bedtime reads or inspiration for narrative writing in the classroom. Each story is also beautifully illustrated, providing plenty of sparks for imaginations.
I have always been a fan of myths, and this is a wonderful addition to my collection. The stories come with plenty of positive messages and morals, from animals learning to work as a team and play to their strengths in Once Upon Two Suns to navigating the struggles of friendship between thunder and lightning in Once Upon a Savannah. I particularly enjoyed Once Upon a Forest, which alludes to deforestation and the harvester is referred to as 'the beast'. I thought this was a very clever way to get children to think about such issues from the perspective of the animals and plants that are affected.
In terms of being able to read this independently, I think ages eight and up would manage, although I can see younger children enjoying the stories if they were read to them. The stories are short enough to be used as example texts when teaching myths in English lessons.
Once Upon a Planet would also fit nicely with a range of topics including the polar regions, continents and oceans, and any topics that include myths such as Ancient Greece and Ancient Egypt. There are also RE links to be found such as in Once Upon a Paradise, which examines the relationship between light and dark.
80 pages / Reviewed by Kristen Hopwood, teacher
Suggested Reading Age 9+
Other titles