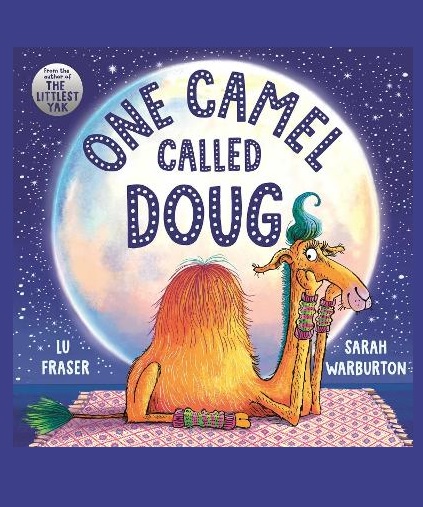 By Author / Illustrator
Lu Fraser, Sarah Warburton
Genre
Animals
Age range(s)
3+
Publisher
Simon & Schuster Ltd
ISBN
9781471191985
Format
Paperback / softback
Published
17-02-2022
Synopsis
A warmly reassuring rhyming story (with a fun counting element!) about how it's ok to need a little alone time, from the author of the award-winning The Littlest Yak.

Doug the camel is all alone and sometimes he wonders whether one is enough (it makes playing hide and seek terribly tough...). So when at first one, then two, then three, then four more camels turn up (followed by a whole camel herd), Doug delights in the possibilities all these new friends bring. But when Doug is 'all camelled out' from all the excitement and it's time to count down to bedtime, he takes just as much pleasure from the peace of being alone once again.

Lu Fraser's warm, funny text is a delight to read out loud and is brilliantly illustrated by Sarah Warburton in the first book from this exciting new picture book partnership.
Q&A & Video with Lu Fraser & Sarah Warburton
Reviews
Maria
From the story to the illustrations, One Camel Called Doug is completely camel-tastic and will have every reader hooked from the start. Packed full of learning opportunities this book is highly recommended for Reception and Year 1 aged children.
By himself, Doug the camel is just one. Around him is one sun, one picnic rug, one of many things. Unfortunately, one is sometimes not quite enough; after all, you can't play hide and seek with just one! Luckily for Doug, Brian, Claire, Bruce, Rita and many other friends are nearby. One by one the camels add themselves together until a whole pack is formed. Together, they can have a party with games, dressing up and lots of fun.
The story is generally very mathematically centred but also has opportunities to develop language and rhyme. The text of the story shows each number in its written form, helping children to practise recognising and reading number words. As each camel joins the group, the reader can practise their skills of adding one.
The book is beautifully illustrated with humorous pictures which really add to the story itself. They could lead to a wonderful art project which would really help to engage the children with this story. This has quickly become a firm favourite of both adults and children in our school.
Picture book / Reviewed by Maria Faithorn, teacher
Suggested Reading Age 3+
Wendy
One Camel Called Doug is a wonderful book to add to your maths story collection! It follows the adventures of Doug, who is just one camel, as he meets another and another and another until there is a whole herd of camels having a party. After all the noise and excitement, however, Doug decides being just one camel is a lot more peaceful when it comes to bedtime.
This book is a wonderfully silly romp of a story, with rhyming text and plenty of repeated lines for little ones to join in with. The illustrations are bright and engaging and aid the storytelling as they are clear enough to help children predict what things 2, 3, 4 or 5 camels are able to do in a group.  The number element is an added bonus as it can be used as part of an EYFS maths session to support the concept of number development.
This is a book that will be read again and again.
Picture book / Reviewed by Wendy Kelly, teacher
Suggested Reading Age 5+
Other titles