Pages & Co.: The Book Smugglers (Pages & Co., Book 4)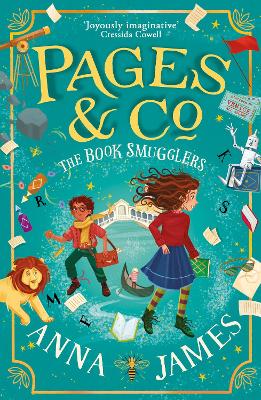 By Author / Illustrator
Anna James, illus Marco Guadalupi
Genre
Fantasy
Age range(s)
9+
Publisher
HarperCollins Publishers
ISBN
9780008410841
Format
Paperback / softback
Published
31-03-2022
Synopsis
Fourth in the modern-classic and bestselling bookwandering series for readers aged eight to twelve that celebrates all that is best in life: books, adventure, friendship - and cake.
Milo lives on board the Sesquipedalian, or "Quip" - a magical train that uses the power of imagination to travel through both Story and the real world. The train is owned by Milo's uncle, Horatio, and Milo has witnessed many of his uncle's dodgy dealings as a book smuggler trading in rare books.
When Horatio takes on a dangerous new job, he needs the help of Tilly Pages. And Tilly owes Horatio a favour. But when poisoned copies of The Wizard of Oz are sent to Horatio and Tilly's grandfather, sending them both into deep sleeps, Milo and Tilly find themselves racing against time to save them - and to figure out what is going on.  Their journey takes them to the Emerald City with Dorothy, rocketing on the unruly Quip, and eventually to Venice in Italy, in pursuit of the mysterious Alchemist. The very essence of imagination, story itself, may be in danger . . .
Also available:  Tilly and the Book Wanderers (Pages & Co., Book 1); Tilly and the Lost Fairy Tales (Pages & Co., Book 2); Tilly and the Map of Stories (Pages & Co, Book 3); The Treehouse Library (Pages & Co, Book 5)
Reviews
Jacqueline
Milo lives with his uncle Horatio on the 'Quip', a marvellous train that can travel through Story. Horatio is never very kind to him, and Milo is lonely. He met Tilly Pages in a previous adventure and Milo is overjoyed to meet her again, this time with Horatio. All is not well at the bookshop Pages and Co, however, as Tilly's grandfather has been poisoned by a book and no-one knows how to wake him. Horatio may have the answer, but can the Pages trust him and does Milo even trust him? They are all about to be tested on a wild journey through Story, that takes in the Wizard of Oz and allows them to travel to meet the mysterious Alchemist, who may be the cause of all the trouble.
The Book Smugglers is the fourth outing for Pages and Co and carries on from the previous books. Tilly is an interesting heroine because she is half fictional and can do things other Bookwanderers cannot. Anna James immerses us in a world where Bookwandering and visiting your favourite book characters is common place for these children. Pages and Co, the bookshop, is like my ideal bookshop and the whole concept is just wonderful. Every time I pick up a new instalment I remember exactly why I enjoy these books so much.
The book is illustrated by Marco Guadalupi and the front inside pages, particularly, really capture the essence of the story. But this is one of the few books where my imagination is more vivid than the pictures! In this adventure it is breakneck speed into the story and adventure. The reader feels as if the Quip is actually carrying them along and I found it the most exciting story yet. Even better, or worse depending on your point of view, the book ends on a real cliff-hanger. Fortunately, the next book is close at hand and sitting ready to be read - not sure what I would do if that was not the case and I had to wait to find out what happens next!
430 pages / Reviewed by Jacqueline Harris, teacher
Suggested Reading Age 9+
Other titles