Pages & Co.: Tilly and the Map of Stories (Pages & Co., Book 3 paperback)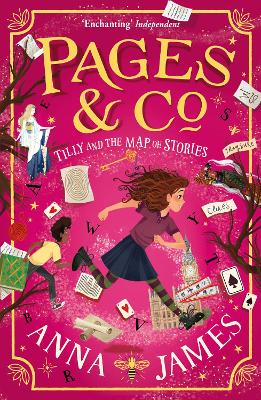 By Author / Illustrator
Anna James
Genre
Magical Realism
Age range(s)
9+
Publisher
HarperCollins Publishers
ISBN
9780008229955
Format
Paperback / softback
Published
01-04-2021
Synopsis
Third in the modern-classic and bestselling bookwandering series that celebrates all that is best in life: books, adventure, friendship - and cake.
Strange things are happening. A man comes into Pages & Co looking for a book... then suddenly can't remember it. Tilly and her family feel like the world is changing - but can't quite put their finger on why.
Meanwhile, the Underwoods are expanding their control over bookwandering - and they still have their sights set on Tilly. Leaving the safety of the bookshop, Tilly heads to America to find the legendary Archivists and save bookwandering... or at least, that's the plan. Wandering in layers of story, Tilly and her friend Oskar come up against dangers they could never have expected, team up with an unexpectedly familiar face, and ultimately find themselves taking on the biggest threat to stories there has ever been - with only their courage and ingenuity to help them. As well as some of their dearest fictional friends...
Also available:  Tilly and the Book Wanderers (Pages & Co., Book 1); Tilly and the Lost Fairy Tales (Pages & Co., Book 2); The Book Smugglers (Pages & Co, Book 4); The Treehouse Library (Pages & Co, Book 5)
Reviews
Jacqueline
A Pages and Co 3 - Tilly and the Map of Stories; A man walks into the bookshop Pages and Co and cannot remember what he came in for. Tilly and her family feel something is not quite right but cannot work out what it is. The wicked siblings Decima and Melville Underwood are now in charge of the Underlibrary and have stopped people from book wandering - could this have something to do with the oddly forgetful feelings everyone is experiencing?
Tilly is about to find out when her mother packs her and her best friend Oskar off the USA to follow the clues she obtained in the last book of her adventures Tilly and the Lost Fairy Tales. Soon, Tilly and Oskar are flung into stories within stories in their quest to find the lost Archivists and help save book wandering from the Underwoods.
I love this series; if I ever get flung into the world of stories I want to go to Pages and Co and experience book wandering for myself. Tilly and the Map of Stories is real book magic and as the third book of Tilly's adventures, the excitement does not wain; if anything, this is even more exciting and original than book 2, Tilly and the Lost Fairytales, and that was some ride! Tilly is strong and brave and well read. She is such a delightful heroine and every time I read about her adventures, I marvel at the imagination of Anna James in creating them.
As with the first two books, Tilly and the Map of Stories is illustrated by Paola Escobar with some small items on the pages and a few marvellous full-page illustrations, which entirely capture the story without taking away the reader's own imagining of what is happening.
This book is a must read for any child who loves reading and lives in a world of stories. I am overjoyed to hear that there are going to be more books about Tilly and I am really looking forward to them!
464 Pages / Reviewed by Jacqueline Harris
Suggested Reading Age 9+
Carol
Tilly and the Map of Stories is the third instalment of the Pages & Co series, about a young bookworm, Tilly, who, along with her best friend, Oskar, can 'bookwander' - travel into the books she reads, meet the characters, and, of course, have wonderful adventures.

Only now, due to some nefarious goings-on at the 'Underlibrary', the ability to bookwander is being restricted and Tilly and Oskar are the ones tasked to save the day. What follows is a whistle-stop tour through many miscellaneous locations from the real Library of Congress to the pages of Midsummer Night's Dream to the mythical Archive, a place held together by the book-magic of imagination, and the Sesquipedalian train (which I cannot even begin to explain). There are also a lot of characters to keep track of, layer upon layer of stories within stories, including some very well-known authors from the past (Jane Austen is particularly well-drawn).

If all this seems like a lot to keep track of, you will be relieved to learn both that Anna James has a tight rein on her wild-horse imagination, bringing all her elements and characters back together for a satisfying conclusion; and that the prologue is a 'Previously' section, reminding us all of the story so far. Why more book series don't do this, I do not understand - usually if a sequel is more than six months after the original, I struggle to remember intricacies of time, place and plot and this 'Previously' section succinctly brought me up-to-date and renewed my excitement to discover what Tilly and Oskar would get up to next.

All in all, the Map of Stories takes the best bits of the previous Pages & Co books (including the children's beautifully realistic friendship - they bicker, they tease, and they balance each other's very different personalities in a lovely way) and adds an extra dash of magic, mayhem and adventure. Excellent work, Anna, and a sure-fire hit!

448 pages / Reviewed by Carol Carter, school librarian
Suggested Reading Age 9+
Other titles