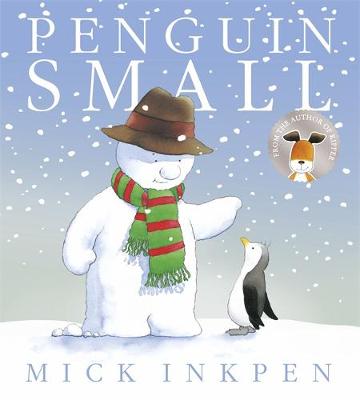 By Author / Illustrator
Mick Inkpen
Genre
Adventure
Age range(s)
5+
Publisher
Hachette Children's Group
ISBN
9781444918212
Format
Paperback / softback
Published
01-10-2015
Synopsis
Penguin Small is a classic story by Mick Inkpen with a surprise giant fold-out page. It tells the story of the last North Pole penguin, who as it turns out was also the smallest penguin! He wants to join his friends in the South Pole, but he's afraid of the water. If only penguins could fly...
Penguin Small is a classic story with giant fold out pages, and as ever, vintage Inkpen illustrations for a fabulous story which explains why there are no penguins at the North Pole!
'A whale of a book.' - Independent.
Mick Inkpen has won the British Book Award, the Children's Book Award and been shortlisted for both the Kate Greenway Medal and the Nestle Prize. He is consistently in the Top Ten most borrowed children's authors from public libraries.
Reviews
Marie
Penguin Small introduces us to another of Mick Inkpen's loveable characters. The story tells the tale of Penguin Small, who want to escape to the South Pole with his friends but is too afraid to swim out to sea. Left behind to face the big bully polar bears, Penguin Small find friendship with a snowman. The two of them help each other to learn to be brave and overcome challenges. This books has the beautiful illustrations we have all come to know and love in Mick Inkpen books, and as always the interactive nature of the giant whale picture is always one to excite the children. There was lots of opportunity for imaginative talk after reading this book, especially when they arrived at the island, with all the weird and wonderful creatures! A very sweet story but the ending I felt was a bit flat and abrupt. However it still makes great bedtime reading! Picture book / Ages 4+ / Reviewed by Marie Berry, teacher.
Suggested Reading Age 5+
Other titles