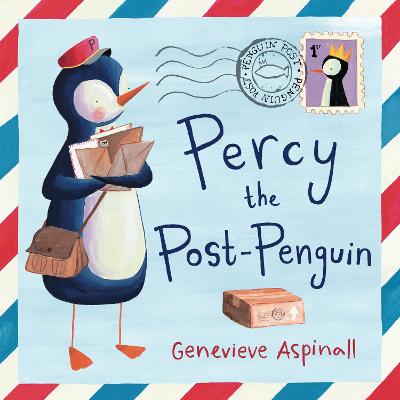 By Author / Illustrator
Genevieve Aspinall
Genre
Friends and family
Age range(s)
5+
Publisher
UCLan Publishing
ISBN
9781915235794
Format
Paperback / softback
Published
02-11-2023
Synopsis
In the chilly South Pole, a hardworking little penguin named Percy lives next to his post office. But not many residents of the South Pole seem to know it is there. With determination and confidence Percy sets off on a mission to make himself known...Will he be able to make his dream come true and create a successful business?
Reviews
Maria
Beautifully illustrated and cleverly told, Percy the Post-Penguin oozes examples of resilience, creativity and determination and is a great text to use with children to teach these skills.
Percy the Post-Penguin works in a post office, but his days are quiet and lonely as no-one knows of his existence. With creativity in mind, he sets to work to promote his post office. Sadly, his work is unsuccessful and his dream doesn't come true. Still, determined to succeed, he shakes the negative thoughts out of his head and returns home. Later, there's a clunk.. A letter has been posted! Percy quickly sets to work to deliver the letter.. But will this be the make or break of his post-office career?
Picture book / Reviewed by Maria Faithorn, teacher
Suggested Reading Age 5+
Maria
Percy the Post Penguin is a delightful book about Percy who lives in the South Pole but has no letters or parcels to deliver. Percy is determined and thinks of a plan to change this and, with a little help from some of the animals who live there, he soon becomes a very busy Post Penguin, helping all the creatures.
This book is such a positive story showing Percy as a kind, determined penguin ready to help others. Percy the Post Penguin can be used to support PSHE to reflect on how to be determined and kind, and can also be used to support Geography knowledge of the South Pole and the animals who live there.
The illustrations are bright and colourful and help to support this lovely story. The end papers are gorgeous and may give the reader a little giggle. Remember to find Percy at the end of the story... he is having a well deserved rest!
Percy the Post Penguin was a huge hit with six to seven-year-olds and I know it is going to be enjoyed over and over again!
Picture book / Reviewed by Maria, teacher
Suggested Reading Age 5+
Other titles