Pick-a-Chick: Happy Easter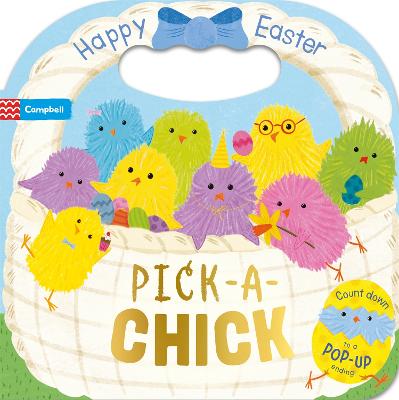 By Author / Illustrator
Nia Gould (Illustrator), Campbell Books
Genre
Early Skills
Publisher
Pan Macmillan
ISBN
9781035010196
Format
Board book
Published
16-02-2023
Synopsis
Join a cast of cheeky chicks as they count down to Easter in this delightful board book from Campbell Books with a carry handle and pop-up surprise!

In Pick a Chick, toddlers will giggle with glee as the chicks paint eggs, bake cakes, sing, dance and more, with hilarious results! Little ones can pick their favourite chick from page to page until there's just one chick left - all building up to a sweet pop-up ending!

With a carry handle for small hands to hold, a bouncy rhyme and bright illustrations from Nia Gould, Pick a Chick is the perfect present for toddlers this Spring.
Reviews
Jessica
Is your child a fan of the 'You Choose' collection? If so, they will be very fond of Pick-A-Chick, illustrated by Nia Gould. We begin with 10 Easter chicks which hatch - crick, crack, crick! We are asked to pick a favourite chick. Will you choose the one that's using its shell as a bed, or will you choose the wild one that's decided to break their egg into the tiniest of pieces?  We have 9 chicks left who decide to bake a cake. Which cake will you choose to eat? Will you choose the cake dripping in icing or the one that might've spent a little too long in the oven… oops!  The book goes on with fun choosing activities until we reach the final pop-up page where all 10 chicks wish the reader a "Happy Easter!"
What I love most about this book is that it encourages children to communicate their preferences, likes and dislikes with other children or adults. It teaches children to listen to, be intrigued by and accept other people's choices, too. Communicating opinion is a really important way of developing children's self-esteem and self-worth. By giving children a tool to have a voice, this book is teaching children that their views are important and valued.
I would really encourage this book to be used in homes, schools and social settings where children can bond with other children and adults to develop their sense of self in the most enjoyable way!
Board book / Reviewed by Jessica Bunney, teacher
Suggested Reading Age 0+
Other titles