Press Start! Game On, Super Rabbit Boy!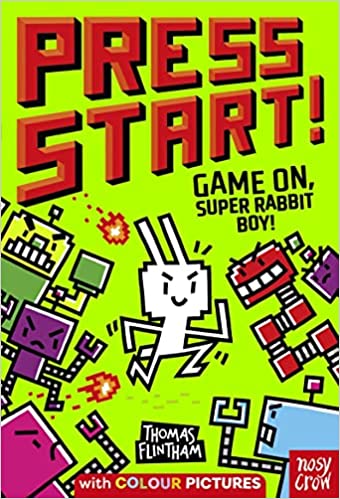 By Author / Illustrator
Thomas Flintham
Genre
Comics & Graphic Novels
Age range(s)
5+
Publisher
Nosy Crow Ltd
ISBN
9781839949180
Format
Paperback / softback
Published
03-02-2023
Synopsis
For 7+ kids who love video games but aren't allowed to play as often as they'd like...  Sunny's favourite game is Super Rabbit Boy and he loves to pit his skills against King Viking who hates fun and happiness and wants to steal Singing Dog and bring sadness to Animal Town FOR EVER!  
Can Sunny help Super Rabbit Boy get to Level 6 and rescue Singing Dog and restore joy to Animal Town? Only if he defeats the Robot Army, dodges the Robo-Crabs and Lakes of Lava before battling King Viking himself!  Has Sunny got the skills? Has Super Rabbit Boy eaten enough super magical carrots (SPOILER: origin story)? You'll have to read and find out...
The first in a full-colour series of graphic novels about - and for - kids who love gaming! Join Sunny as he and Super Rabbit Boy take on the world, one move at a time!  See also: Press Start: Super Rabbit Boy Powers Up!
Find out more from author Thomas Flintham
Reviews
Maria
For the child that has their eyes glued to a games console... this is the book to draw them away. Based in Animal Town, children will quickly relate to the fantasy computer world they are all familiar with, while being engaged further by its bold and clear pixelated illustrations.
This story in Press Start! Game On, Super Rabbit Boy! involves Super Rabbit Boy having to rescue Singing Dog from King Viking, but it's no easy challenge. As with all computer games, there are levels to pass, baddies to defeat and risks to be taken. Will Rabbit Boy make it, or will he fail at the final hurdle?
Showing great examples of resilience, this is the perfect book to use with children who are struggling with the emotional attachment to computer games and the risk of failing. For a teacher or parent who wants a change in the usual genre (and to show their children they are clued up on current themes!) this is the book! There's also more adventures; Super Rabbit Boy Powers Up! And Super Rabbit Racers!
80 pages / Reviewed by Maria, teacher
Suggested Reading Age 7+
Kyle
Sunny's favourite video game is Super Rabbit Boy! He loves nothing better than trying to defeat the evil King Viking as he manoeuvres Super Rabbit Boy through the trails and tribulations of Super Rabbit Boy Land. In this first instalment of the new series of books by Thomas Flintham, we join our carrot-loving hero in his quest to save Singing Dog from the clutches of King Viking.
Written in a style that tells the story from two points of view, Sunny and Super Rabbit Boy, makes this text very engaging. The narrative is simplistic and easy to follow and enjoyable for both young reader and old story tellers. I found myself overcome with a wave of nostalgia whilst reading this to my son due to the similarities between the hero of the book and the very well know video game hero / plumber I grew up playing as a child.
Being a short chapter book makes this text a really accessible pathway into longer reads for children looking to extend their early reading. The text is printed in a large enough font for younger eyes to track and the narrative style is easy to read. The story is expertly accompanied by some bright and vibrant coloured illustrations, something rather unusual for a chapter book. This, however, is in keeping with the style and allure of the text and is a huge part of its success.
The success of the first story in the series is repeated in the next instalment, Super Rabbit Boy Powers Up!. This time, Super Rabbit Boy faces his now arch nemesis King Viking as he valiantly tries to prevent him from stealing all the special power ups scattered across the land. Again, both children and adults will feel a real connection to the story if they have any experience of playing platform based video games.
These texts are certainly not ground breaking but they do a great job in enticing readers to a world which they may well be able to make connections with. A solid start to a series of books which will no doubt be successful amongst reluctant readers and one which I shall be sharing with my six-year-old son as well as my Y2 class.
80 pages /  Reviewed by Kyle Matravers, teacher
Suggested Reading Age 5+
Amanda
Calling all computer-loving pupils, Thomas has written your next must-read book! This wonderful early chapter book is filled with colourful, action packed pictures, illustrating this simply told action adventure.
Sammy's favourite video game is Super Rabbit Boy! He loves trying to stop King Viking destroying all the fun in Animal Town. This time he has stolen Singing Dog! Can Super Rabbit Boy, powered by magic carrots, rescue him and bring back happiness to the land?
This series is a must have for any KS1 and lower KS2 book corner (ages 6-8 years).
80 pages / Reviewed by Amanda, teacher
Suggested Reading Age 5+
Other titles