Press Start! Super Rabbit Boy Powers Up!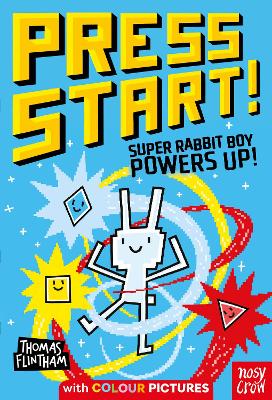 By Author / Illustrator
Thomas Flintham
Genre
Comics & Graphic Novels
Age range(s)
5+
Publisher
Nosy Crow Ltd
ISBN
9781839949227
Format
Paperback / softback
Published
02-02-2023
Synopsis
For 7+ kids who love video games but aren't allowed to play as often as they'd like...
Sunny's favourite game is Super Rabbit Boy, where his carrot-loving friend must thwart all the plots the evil King Viking of Boom Boom Mountain comes up with.  King Viking is planning to build a Super Robot to destroy EVERYTHING and Super Rabbit Boy must find the Super Power Up component before King Viking does.
He has a map and his BRAVERY and SKILLS. Can he break the evil wizard's curse, defeat the gobbling goblins and solve the riddles he finds in the Cold, Cold Caves? Or will King Viking get there first and DOOM EVERYTHING. You'll have to read and find out...
The second in a full-colour series of graphic novels about - and for - kids who love gaming! Join Sunny as he and Super Rabbit Boy take on the world, one move at a time!  See also:  Press Start! Game On, Super Rabbit Boy!
Find out more from author Thomas Flintham
Reviews
Maria
Super Rabbit Boy is back with Press Start! Super Rabbit Boy Powers Up!, and this time there's a very big and important mission to complete - King Viking wants the Super Power Up, and that would spell the end of Animal Town. The race is on, with challenges to complete, baddies to defeat and levels to pass. It's not looking good though, when King Viking reaches the Super Power Up first. Will Super Rabbit Boy manage to save the day? Or is it the end for Animal Town?
The Press Start series is a great set of books for emergent readers. Based around a theme that most children can engage and relate to, and with its pixelated, bright and bold illustrations, these will definitely have even the most reluctant readers interested.
80 pages / Reviewed by Maria, teacher
Suggested Reading Age 7+
Amanda
This simply told, gaming-based story is certain to interest younger readers. It is easy to follow the adventure of Super Rabbit boy as he progresses through the levels of this challenging computer game with wonderfully colourful, blocky illustrations.  Sammy is playing his favourite video game; King Viking is on a mission to steal the super power up that is hidden in the secret lands. Join Sunny and Super Rabbit Boy on their second adventure colourful, action-packed adventure.
This is the perfect book for KS1 and lower KS2 book corners (ages 6-8 years). It will be the book that pupils cannot put down and the go-to book for teachers to recommend to reluctant readers. Well done Thomas, you have written a sure fire hit series with these.
80 pages / Reviewed by Amanda, teacher
Suggested Reading Age 5+
Other titles