Puddles, Muddles and Cuddles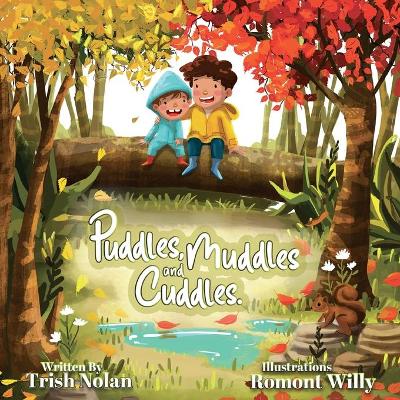 By Author / Illustrator
Trish Nolan, Romont Willy
Genre
Picture Books
Age range(s)
3+
Publisher
Alice Vinten
ISBN
9781739766207
Format
Paperback / softback
Published
10-02-2022
Reviews
Jacqueline
Puddles, Muddles and Cuddles is a very sweet rhyming story about two young brothers going on a walk, looking for puddles. With vibrant illustrations by Romont Willy, the walk in the woods is captured with humour and the joy only small children can get from muddy puddles.
In an Autumn setting, the boys run through the woods losing boots, climbing on logs and running ahead of their mother. This is exactly what children do and as it is based on Trish Nolan's own sons, you can see the real experiences shining through. "Me feet first, him head first, We're finally SPLASHING. And it's cold and it's deep and it's wet and it's smashing." This sort of experience, whether in a local park or the woods, is one that many children have enjoyed and will be familiar with, so the book fits well into the early experiences category.
As soon as I read it I could imagine the audience laughing along. After all, as a well known children's character says, everyone loves jumping up and down in muddy puddles! Thank you Trish Nolan for sending the book and it will be going to my local nursery for them to enjoy.
Picture book / Reviewed by Jacqueline Harris, teacher
Suggested Reading Age 3+
Other titles