Rainbow Grey: Eye of the Storm (Rainbow Grey Series)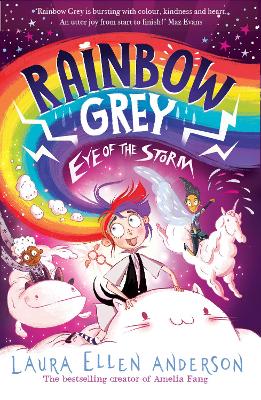 By Author / Illustrator
Laura Ellen Anderson
Genre
Fantasy
Age range(s)
7+
Publisher
HarperCollins Publishers
ISBN
9781405298704
Format
Paperback / softback
Published
03-03-2022
Synopsis
The second book in a magical new series from best-selling author and illustrator, Laura Ellen Anderson!
Ray is getting used to life as Rainbow Grey - she now has ALL the magical weather powers at her fingertips, although she hasn't quite mastered them yet!  When all of the cloud creatures start disappearing - including Ray's own beloved cloud cat, Nim - Ray and her friends have a mystery to solve. Ray is sure that a dark magic is behind the disappearances. Can she work out what is going on before cloud magic is lost forever and Earth is destroyed by the ultimate storm . . .?
Reviews
Lisa
Ray lives high in the sky surrounded by magical Weatherlings, but has no powers herself! However, after a trip to Earth, her whole world changes as she transforms into Rainbow Grey! She must now learn to master her powers alongside her new friends, all whilst saving the world from a powerful enemy.
Amelia Fang books have always been popular in our lower key stage 2 classes and the Rainbow Grey series is a fantastic next stage in children's reading journeys. It is a great, colourful adventure story for children who are ready to tackle longer chapter books. The illustrations are incredible and really add to the charm and magic of the book, Laura Ellen Anderson is really showcasing her creativity and imagination with this series.
The second book Rainbow Grey: Eye of The Storm is an excellent sequel in the series which builds on the magic, mystery and adventure of the first book. I now have a waiting list of children who want to borrow my copy to read themselves!
304 pages / Reviewed by Lisa Watkins, teacher
Suggested Reading Age 7+
Jennifer
Rainbow Grey: Eye of the Storm is the delightful second book of the adventures of Rainbow Grey.  It is a joyous, exhilarating story featuring the Weatherland's only 'Rainbow Weatherling'. Having gained her powers in the first book, book two sees the spirited, optimistic Rainbow Grey learning to harness her new powers and what our clumsy, uncoordinated, loveable Rainbow lacks in refined skills, she more than makes up for in enthusiasm and resilience. In The Eye of the Storm, disaster looms and something (or someone) is causing the weatherling cloud companion creatures to disappear. This threatens the very existence and balance of not only Weatherlands, but Earth itself. Rainbow Grey seems to be in the firing line of blame and is determined to solve the mystery, clear her own name and protect her own beloved shape shifting, exploding cloud cat, Nim, from disappearing, too.
I adored this book. Fond already of Rainbow Grey, adorable Nim and loyal best friends Snowden Everfreeze and Droplet Dewbells, my heart was utterly warmed again by her new adventures. The book positively sparkles with magic and bursts with vibrant scenes and characters. The world building is so imaginative with even more drama than the first book.
Eye of the Storm also has some very real heart rending, emotional moments that are so gently written. There is a real sense of Rainbow Grey growing as a character with her conscience, self -belief and understanding of her magic all showing growth. The book celebrates loyal friendship, the importance of pulling together as a community and the power in being proud of your own uniqueness. A real pleasure to read.
304 pages / Reviewed by Jennifer Caddick, teacher
Suggested Reading Age 5+
Other titles