Rainbow Grey (Rainbow Grey Series)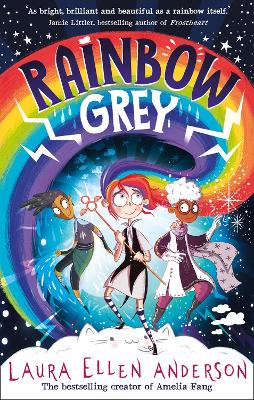 By Author / Illustrator
Laura Ellen Anderson
Genre
Magical Realism
Age range(s)
7+
Publisher
HarperCollins Publishers
ISBN
9781405298728
Format
Paperback / softback
Published
27-05-2021
Synopsis
A magical new series from best-selling author and illustrator, Laura Ellen Anderson!
Ten-year-old Ray Grey lives in the magical Weatherlands, high in the sky. Ray is surrounded by Weatherlings with astounding weather power at their fingertips . . . but she doesn't have ANY magic!  Then, after a trip to Earth, Ray's life changes forever. She is transformed from Ray Grey into RAINBOW GREY! With the help of her best friends (and exploding cloud cat, Nim) now all Ray has to do is master her powers AND save the world from a mysterious, powerful enemy . . .
Reviews
Jennifer
Rainbow Grey is the first book in a delightful, charming series by Amelia Fang author, Laura Ellen Anderson. City in the sky, Celestia, is inhabited by Weatherlings (folk who all possess different kinds of weather magic to help control Earth's weather and protect it from villainous ROGUE storms), Our main character, however, young Ray Grey, unusually doesn't have any weather magic at all. Not that she lets this get in the way of her adventurous and curious mind. Ray is determined and confident that she is going to be a world class Earth Explorer instead. The discovery of a mysterious crystal changes her plans, life (and hair!) for ever and she must learn how to harness her new powers, discover their true potential and find out who she can really trust to help her.
This is a thrilling, action packed adventure set in a beautifully imagined, colourful and vibrant world. Celestia brims and sparkles with unique magic; from the cast of suitably named characters, like Snowden Everfreeze and Droplett Dewbells, to the unique and quirky description of the Sun as actually being a giant sunflower. All topped by the creation of cute, funny and utterly endearing cloud-cat Nim (who farts, explodes and has to reassemble himself at any given moment).
The book's bright, glossy cover promises a vivid, bold and playful story and doesn't disappoint. There are lovely illustrations throughout to help these excitable new characters spring to life. Rainbow Grey is a treat to read - fun, bright and breezy tale of finding out about your true strengths and your true friends.
304 pages / Reviewed by Jennifer Caddick, teacher
Suggested Reading Age 7+
Other titles