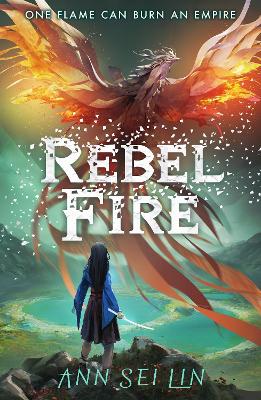 By Author / Illustrator
Ann Sei Lin
Genre
Fantasy
Age range(s)
11+
Publisher
Walker Books Ltd
ISBN
9781406399608
Format
Paperback / softback
Published
06-07-2023
Synopsis
The second in a pacy and lyrical fantasy adventure trilogy set in a world of flying ships, sky cities and rebel uprisings.

Kurara and her shipmates have escaped the grasp of the princess, whose wish to control and command them as her own human shikigami would be a fate worse than death. Travelling through the forests and across the seas of Mikoshima, they finally the Grand Stream, where their old airship - and old enemies - await.  Both parties seek the greatest shikigami of all: Suzaku, a paper phoenix. But will it be saved - or destroyed?

"Featuring a vivid mythology, spectacular battles, and an endlessly surprising heroine, Rebel Skies is as intricate, beautiful and startling as one of the paper spirits Kurara brings to life." Jonathan Stroud.  "A magical debut that reads like a Ghibli film, brimming with imagination, action and heart." Natasha Ngan.  "An intricately constructed ode to papercraft and Japanese culture. I fell in love with this world of airships, cumulous whales and floating cities. Pure magic." Lauren James
See also:  Rebel Skies (Book 1, Rebel Skies)   PLUS Find out more from author Ann Sei Linn
Reviews
Jacqueline
Rebel Fire is the sequel to Rebel Skies, a much lauded fantasy book. Kurara and her brother Haru have escaped from the power-hungry princess Tsukimi and they are looking for the most powerful of all the shikigami, a phoenix. Kurara hopes it will enable her to free the shikigami from the Crafters. But things do not go as planned and Kurara discovers more about her past and things she would rather not remember.
This is such an original idea, the first book was one of my favourite reads from last year. The idea of paper magic, like extraordinary origami, is so fresh, it retains the 'wow' factor into the second book. This book also contains lots of tricky moral dilemmas and Kurara's flaws are brutally exposed.
The complexity of this world and the imagination are as breathtaking as the paper creatures themselves. This book does contain violence and that is why it is most suitable for 11+. Any fantasy fan will gobble it up and be waiting eagerly for the next installment.
352 pages / Reviewed by Jacqueline Harris, teacher
Suggested Reading Age 11+
Ruth
Rebel Fire is the second in a trilogy about a fantastical world inhabited by amazing creatures. Friendships are forged as the central characters risk their lives and liberty in a race against time. The author, Ann Sei Lin, has written a book filled with mystical places and mysterious beings. Wonderful description fills the pages as the adventure races towards a crescendo, leaving the reader wanting more. Thankfully we have a third book to look forward to and one I hope will provide the story's denouement.
Origami threads run throughout this book with the power of paper being the central force. It is the legendary paper phoenix which provides the goal for our hero, Kurara, and her group of friends. The imagery is further enhanced by the cover illustration by Amir Zand and there is a helpful glossary and map which will enable young readers to become immersed in this magical, dangerous land.
I predict this series will be a popular loan in our secondary school library with our teenage students. Once complete, the series will be eye catching as forward-facing books on the shelves. Ann, as a librarian writer, already appreciates the popularity of fantasy adventure fiction in this age group and I must declare a vested interest in supporting a fellow librarian, especially one with such imaginative storytelling.
352 pages / Reviewed by Ruth Cornish, school librarian
Suggested Reading Age 11+
Linda
Rebel Fire is the second book in the Rebel Skies series, and the action picks straight up from where book one ends. This is a rollercoaster read, it has so many plot twist and turns it will leave you breathless and at the last page leaving you wanting more...
Kurara and her friends have escaped Princess Tsukimi and are now on their way to the Grand Stream to speak with the Shikigami that rules there. Will this spirit have the answers that Kurara seeks? What will the consequences be of discovering the Star Seed, if it really exists? On her journey to the Grand Stream she encounters a Bear Shikigami, called Banri. He has become separated from his master and is slowly losing his mind. Kurara must work out how to free all Shikigami from their masters, freeing them from this fate. This paper bear will break any reader's heart. This journey is one of discovery for Kurara; of who she can trust, who she really is and the cruel history of Crafters.
Rebel Fire is so well written and beautifully imagined; perfect for the 12+ reader, book clubs and intervention groups as these books explore themes of power, slavery, friendships and trust. Even though I have enjoyed delving into this world that this talented author has created, my only gripe is that we didn't get to know Tomoe and Sayo a little more, I feel these characters can bring even more to this wonderful story. Hopefully they will be developed further in book 3, which I eagerly await.
352 pages / Reviewed by Linda Brown, school librarian
Suggested Reading Age 11+
Other titles